Hatch Green Chile Sliders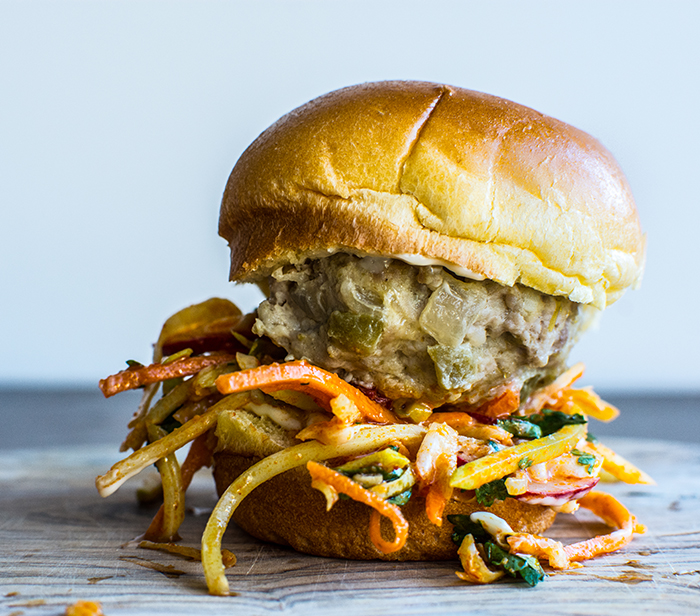 ---
Post and images by guest blogger, Rebecca White, of A Pleasant Little Kitchen.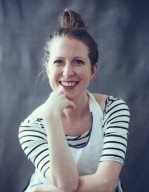 Visit her full blog or find out more about her here.
---
It's time to slide into August with one of the tastiest Hatch chile bites there ever was.
Hatch Green Chile Meatball Sliders with Sriracha Coleslaw is the perfect vessel to deliver delicious Hatch chile flavor. Between two toasted golden buns lies a Hatch filled pork meatball with spicy sriracha coleslaw. Every bite contains crunch, salt and Hatch chile goodness.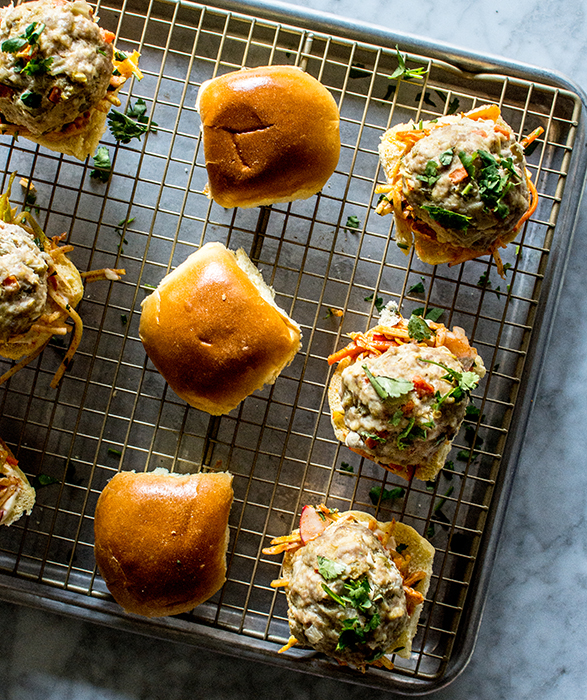 What makes this meal so great besides the flavor? The two major components of this meal (the meatball and the coleslaw) are both make-ahead friendly and versatile.
The meatballs can be prepared up to a day before and then baked right before service. The coleslaw can be made up to 2 days in advance, and actually, develops more flavor the longer it sits in the fridge.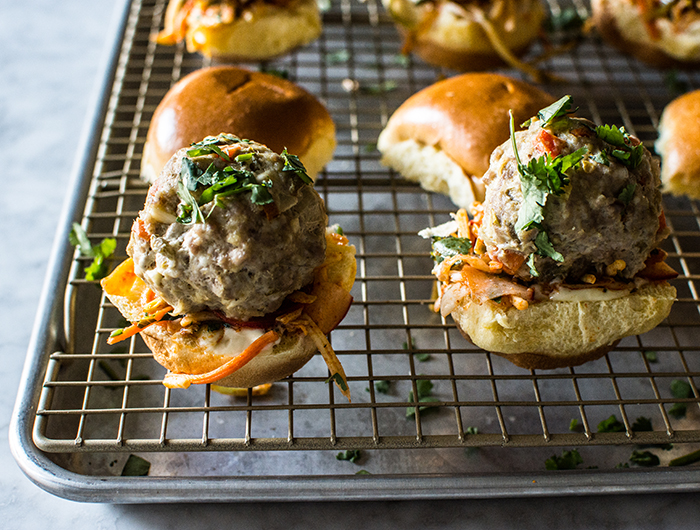 What's not to love?
Now you might be wondering, is this recipe just for sliders? No, it is not. Like mentioned before, it is versatile. Here are a few other ways to use the meatballs and coleslaw: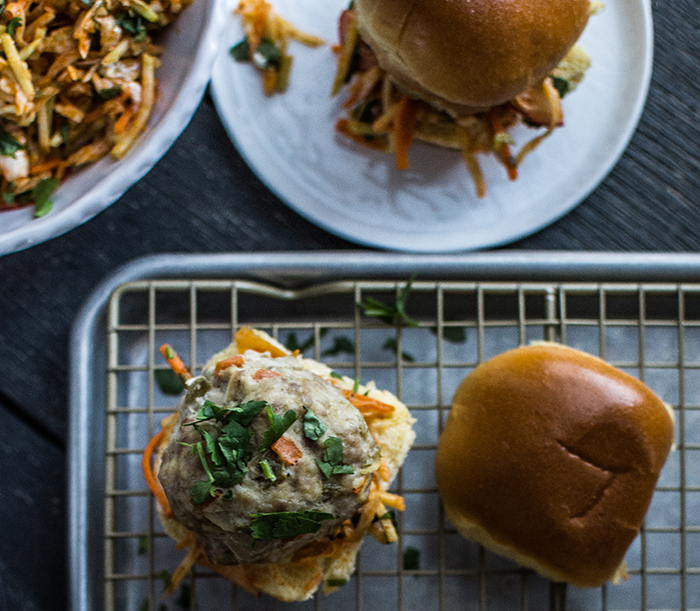 1. Cook egg noodles, toss with butter and parmesan, and serve the meatballs with the noodles.
2. Eat the meatballs with the coleslaw as a side for a low-carb free option.
3. Serve the coleslaw with jasmine rice and top with a runny egg.
4. Freeze the meatballs for a rainy day.
5. Top your favorite tacos with the sriracha coleslaw.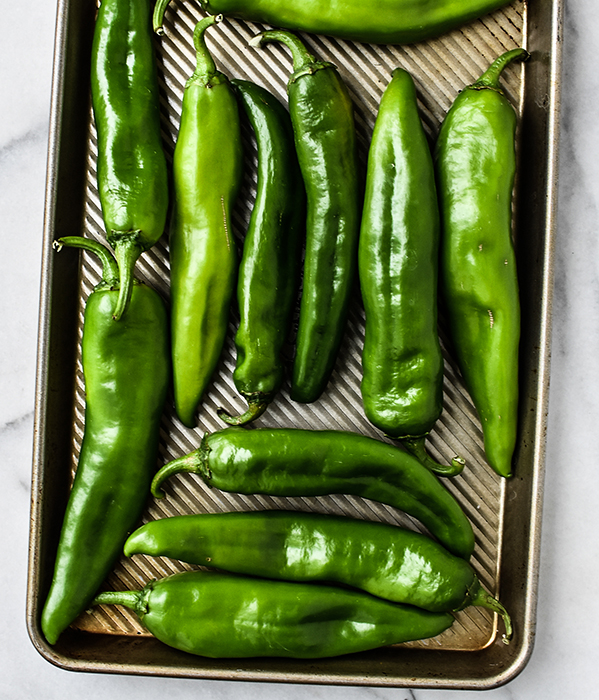 You also might be wondering how the meatballs have so much Hatch chile flavor. For this, I defer to Market Street and their annual Hatch chile extravaganza.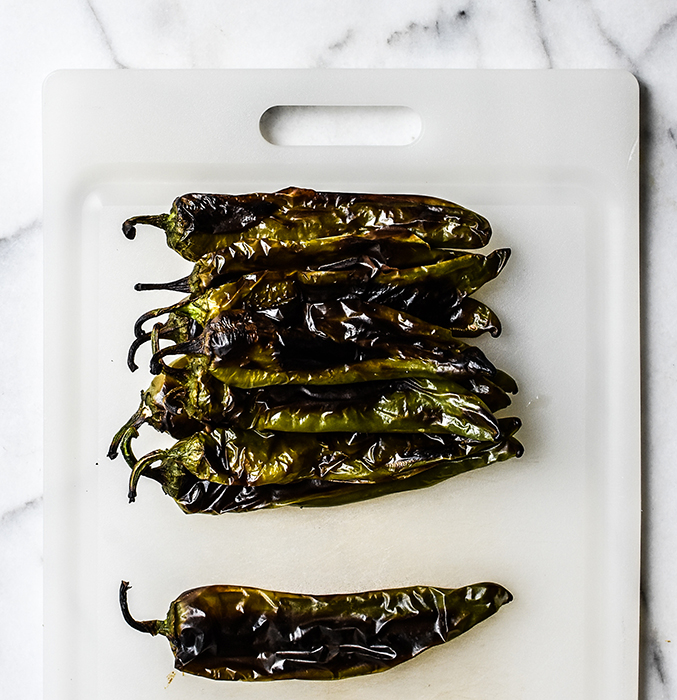 Market Street takes Hatch season seriously, as any food connoisseur should. They know the delicious chile flavor that Hatch chiles possesses and they celebrate it. One of my favorite parts of this month-long Hatch party are the fire-roasted chiles available for purchase.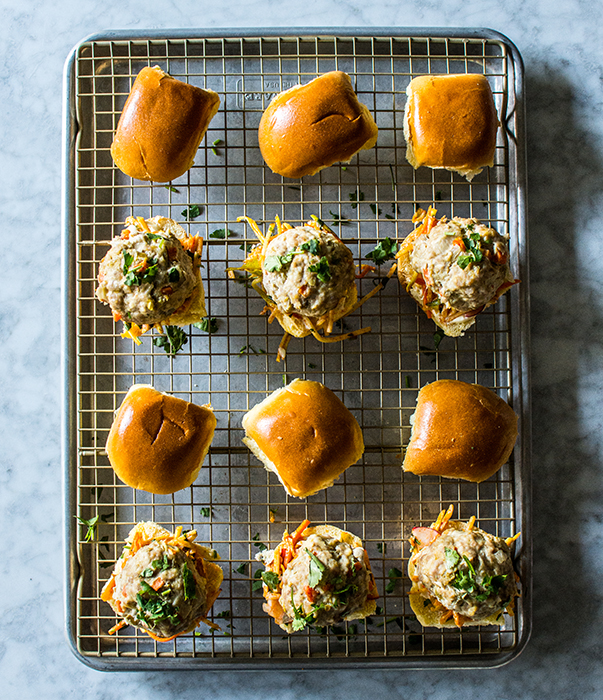 These meatballs contain those FRESHLY roasted peppers that Market Street is diligently roasting outside the entrance. And that unique roasted chile flavor permeates the meatball.
Which again, brings me back to my first point; this slider is one of the tastiest Hatch chile bites there ever was.
---
Hatch Green Chile Sliders with Sriracha Coleslaw
Author note: This recipe is easily halved.
2 tablespoons extra-virgin olive oil
1 cup diced onion
2 carrots, finely diced
3 garlic cloves, chopped
2 1/2 teaspoons kosher salt
1 cup Hatch green chiles (peeled and seeded)
1/2 cup lager beer
2 pounds ground pork
2 teaspoons cumin
1/4 cup panko bread crumbs
2 eggs
2 teaspoons mayonnaise
2 tablespoons crème fraîche
1/4 cup freshly grated parmesan
2 cups water
chopped fresh cilantro, for topping
slider buns, for topping
mayonnaise, for topping
1) Heat the oven to 400 degrees.
2) Place the oil, onion, carrots and garlic in a medium sized skillet and cook until softened, about 6-8 minutes.
3) Add the green chiles and continue to cook for an additional 4-5 minutes.
4) Pour the beer in the skillet and deglaze the pan. Cook until the beer has been completely absorbed and the vegetables are slightly sticking to the pan.
5) Remove the vegetables from the stove top and let cool for about 15 minutes.
6) In a large bowl, combine the pork, cumin, bread crumbs, eggs, mayonnaise, crème fraîche, parmesan and cooled vegetable mixture. Stir well to combine.
7) Line a rimmed baking sheet with parchment paper. Form 18 large meatballs.
8) Place in the oven and bake for 20-25 minutes, or until the meatballs are cooked thru (temperature reaches 160 degrees).
9) Toast the slider buns. Spread mayonnaise on each side of the buns. Lay a generous amount of coleslaw on the bottom layer of the bun. Top with a meatball, a sprinkling of cilantro and the top bun.
for the Sriracha Coleslaw:
4 cups shredded cabbage
4 cups shredded broccoli stems and carrot mix
1 cup radishes, thinly sliced and slivered
½ cup cilantro, roughly chopped
2 teaspoons Dijon mustard
2 teaspoons red wine vinegar
4 tablespoons sriracha
juice of 1 lime
3/4 teaspoon kosher salt
1/4 teaspoon granulated garlic
3 tablespoons extra-virgin olive oil
1) Combine the cabbage, broccoli, carrots, radishes and cilantro in a large bowl and mix well.
2) In a medium-sized bowl, add the mustard, red wine vinegar, sriracha, lime juice, salt and garlic. Whisk well until combined.
3) Slowly whisk the olive oil into the sriracha dressing (a few drops 1 drip at a time and then a steady stream). Whisk until well combined.
4) Pour the dressing on top of the coleslaw and mix well. Serve chilled or at room temperature.
Category: What's Cooking