Eating Healthy, Gluten-Free
Gluten is a protein commonly found in many foods such as wheat, rye, barley and oats. For millions of Americans with celiac disease, it can cause serious health problems. The disease is managed with lifelong avoidance of gluten. A gluten-free diet may also be helpful for those who have gluten intolerance, dermatitis herpetiformis, wheat allergies, multiple sclerosis, fibromyalgia, autism and other immunological conditions. Market Street offers many resources for those living and shopping gluten-free.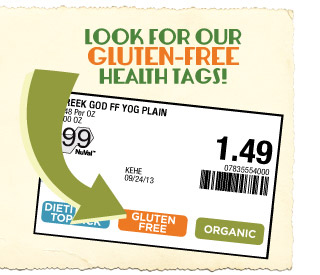 Gluten-Free
Health Tags
Our tag is given to products that are certified Gluten-Free. Some of the products may have been reformulated to be gluten-free. For example, all fruits and vegetables are naturally gluten-free and thus are not labeled. However, most bread contains gluten so those that are gluten-free are labeled with our Gluten-Free tag. View our list of gluten-free products.*
*Not all products available in all stores.
Gluten-Free
Shopping Guide
Our Gluten-Free shopping guide makes it easy to shop gluten-free. Click to download a copy or pick one up in store.
Gluten-Free
Dietitian Store Tours
If you are new to a gluten-free diet or just want to learn more, take a gluten-free tour with our team of friendly dietitians. Learn more and sign up for a tour today.