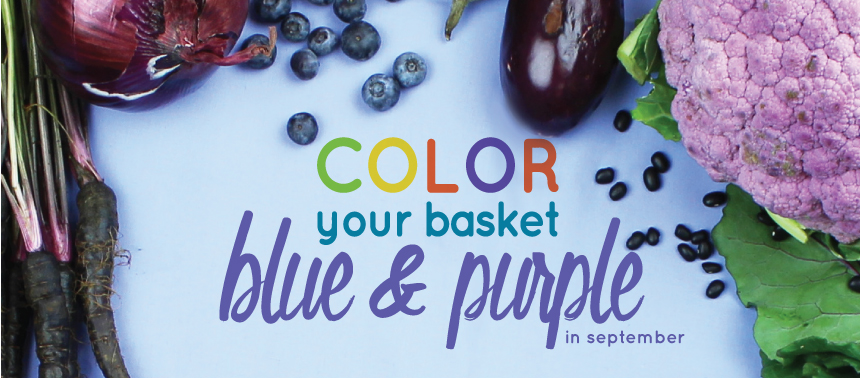 The Greatness of Blue & Purple
-The pigments in blue/purple foods are called anthocyanins (antho-cy-a-nins).
-Studies show that adults who eat purple and blue fruits and vegetables have reduced risk for both high blood pressure and low HDL cholesterol (the "good" kind); they are also less likely to be overweight.
-Blue Corn has 30x the antioxidants of white corn - look for blue corn chips on the chip aisle!
-Purple cauliflower is actually a type of broccoli that is purple and turns green upon cooking.
-Purple potatoes have 166x more bionutrients than white potatoes.
-A new study shows that a spoonful of black rice bran or 10 spoonfuls of cooked black rice contains the same amount of antioxidants as a spoonful of fresh blueberries.
-Currently, purple and blue foods make up only 3 percent of the average American's fruit and vegetable intake, so Color Your Basket Blue & Purple this month!
Featured Recipe: Purple Potato Breakfast Hash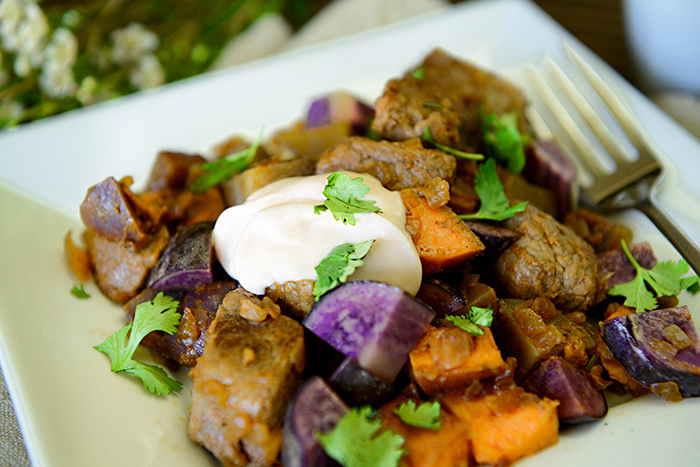 Ingredients:
12 oz cooked beef such as steak, roast, pot roast, ground beef, cut into 1/2-inch cubes
1 small sweet potato unpeeled, cut into ½ inch cubes
3-4 small purple potatoes, cut into ½ inch cubes
1 medium yellow onion chopped
1 tbsp taco seasoning mix
1/4 cup water
1 tbsp vegetable oil
2 tbsp reduced-fat or regular dairy sour cream or plain Greek yogurt
1 tsp hot pepper sauce
chopped fresh cilantro
Directions
1) Combine both potatoes, onion, and taco seasoning in a large nonstick skillet over medium heat. Add water. Then, cover and cook 8-10 minutes or until crisp-tender and water has almost evaporated. Stir once. Stir in oil. Continue cooking, uncovered, for 4-6 minutes or until potatoes are tender and begin to brown, stirring occasionally.
2) Meanwhile, combine sour cream and hot sauce in small bowl. Set aside.
3) Add beef to potato mixture. Continue to cook 5 minutes or until beef is heated through, stirring occasionally, adding 1-2 tablespoons water, if needed to avoid sticking.
4) Garnish with cilantro, as desired. Serve with sour cream mixture.
Recipe inspired by The Texas Beef Council