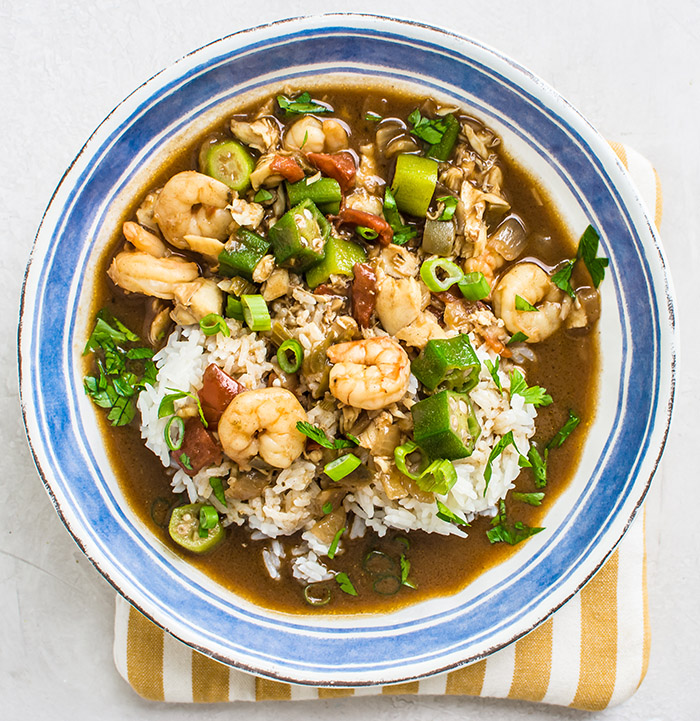 Seafood Gumbo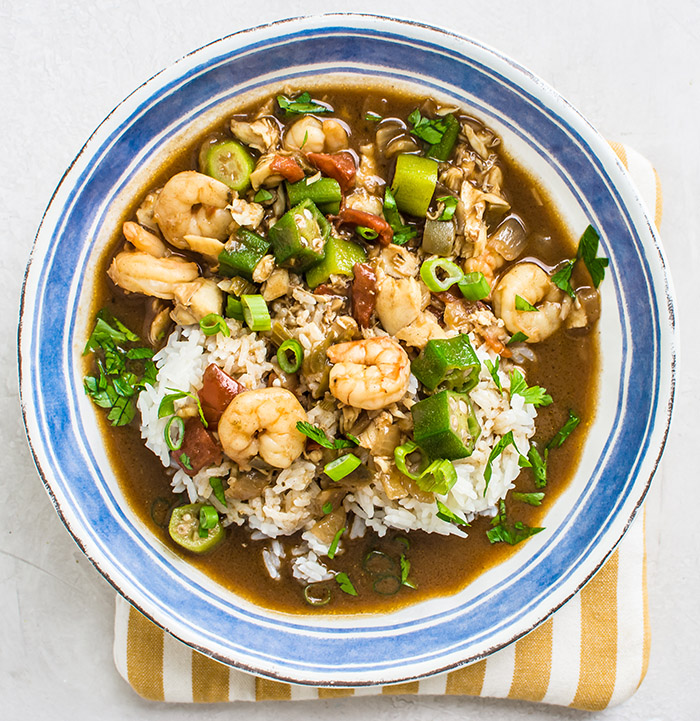 After a delightful culinary trip to New Orleans, 10 years ago, I had a hankering for homemade gumbo. Never having made gumbo I dived into the world of Cajun recipes, gleaning little bits of inspiration from multiple sources. One recipe used butter for the roux, another the more commonly used vegetable oil. Some recipes called for okra, others tomatoes. The varieties seemed endless.
I felt slightly overwhelmed by the variety of seafood gumbo recipes available. It appeared that every Cajun cook had their own spin on this classic. However, I did find a common thread in all these recipes, the Cajun Holy Trinity: onion, celery and bell pepper. This trio is considered the flavor foundation of Cajun cuisine. And at that time, as a novice cook, I felt comfortable with these three ingredients.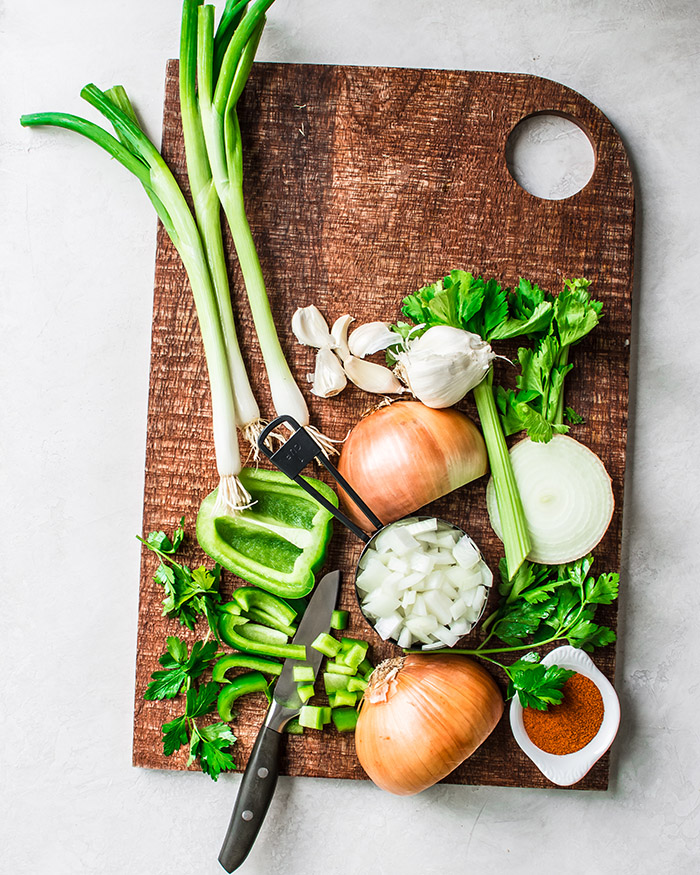 However, some of the other ingredients were a bit new to me— filé! Fish stock! Lump crab meat! As a twenty something year-old who had lived most of her life in a land-locked state, I wasn't quite sure what these ingredients would taste like, or if I could even find them.
I found comfort in Market Street. Just because I was unfamiliar with these ingredients didn't mean my neighborhood market would be. Market Street had them all.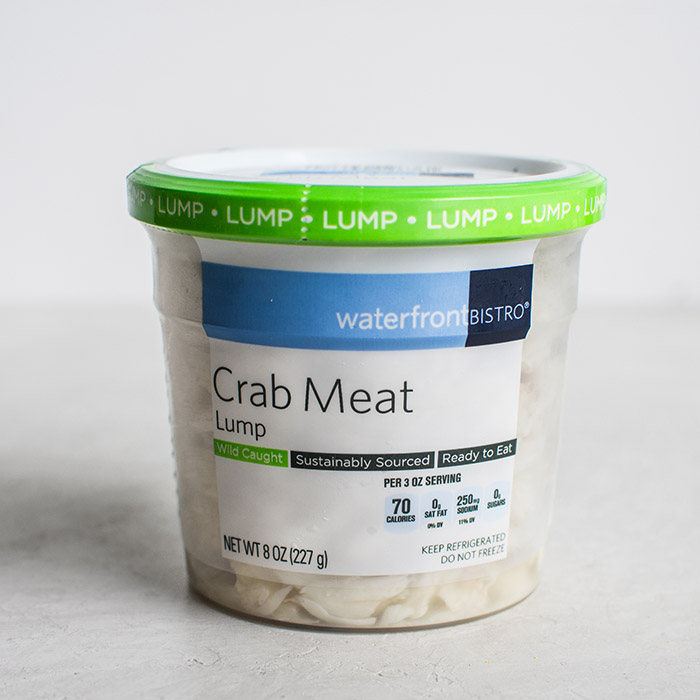 After making my first batch of homemade gumbo I discovered that it was a labor of love (one that I thoroughly enjoyed) but decided to only limit to once a year. The more laborious aspect of the gumbo was making sure the roux achieved the ubiquitous and flavorful chocolate brown color. Keep in mind that this color of roux is not difficult to achieve (it's simply vegetable oil + flour + heat + time) but it does take a substantial amount of time over a hot stove.
This element of labor did not hamper my yearly endeavors to make gumbo. In fact, it became a ritual that I looked forward to.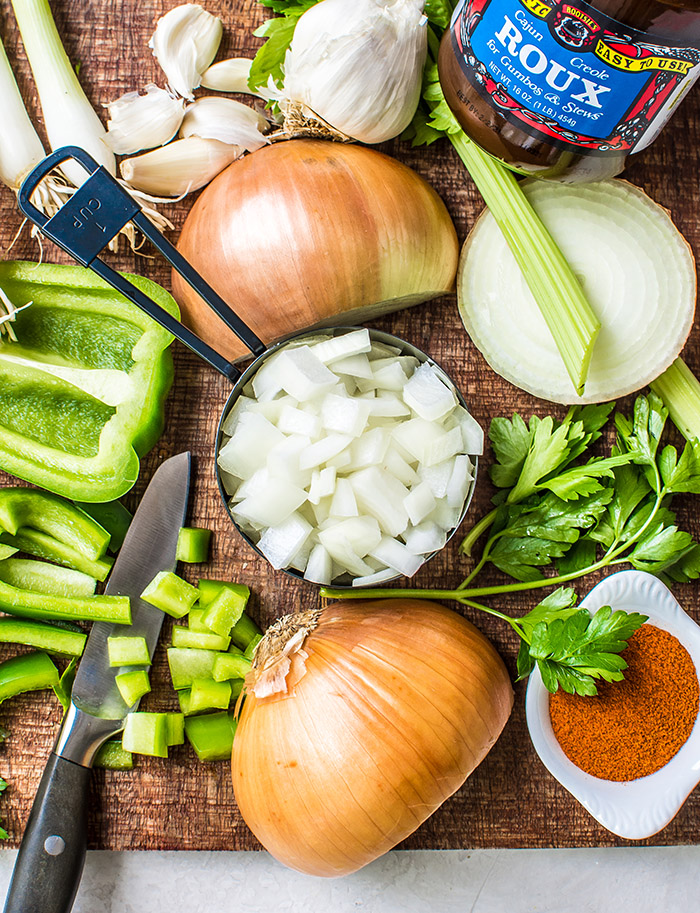 But then something happened—my kids got older and my time started to dwindle. The roux, that glorious, dark brown roux stopped me from making gumbo. So sad!
Recently while at Market Street I was pulled into the fish department by their fantastic seafood festival. As I was deicing what seafood I should grab for dinner, I noticed a display that had those gumbo ingredients all bundled together—it was as if Market Street was whispering into my food soul "make gumbo."
But the roux!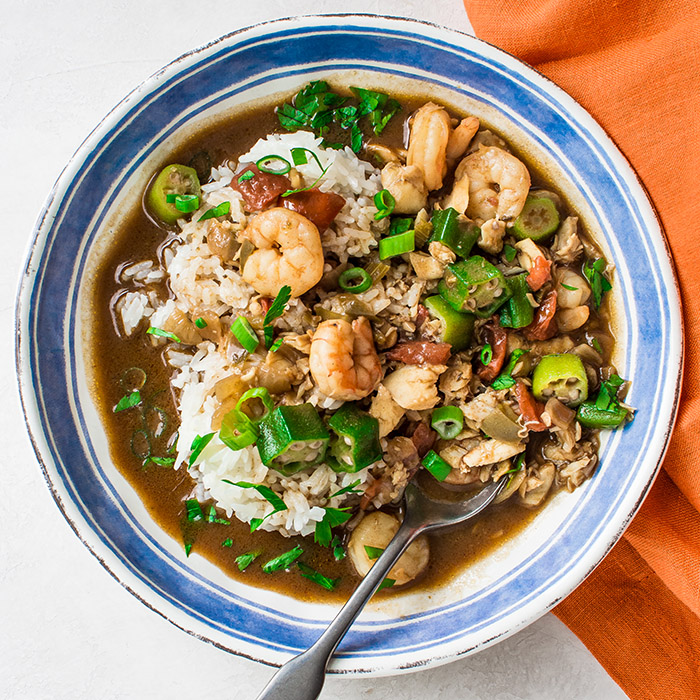 Suddenly, my eyes were drawn to an unfamiliar, yet highly welcomed, ingredient: premade roux.
The answer to my dilemma was bottled up and ready to go home with me—thank you Market Street! This bottle of brown goodness was going to take a large portion of time and energy away from the gumbo process. All that was now required of me was to chop the Cajun Holy Trinity. If I timed it right, I could even have gumbo on a weeknight.
Amazing!
My cart quickly was filled with the premade roux, filé, fish stock, lump crab meat (from the refrigerated section next to the fish monger!), shrimp and white fish. I already had a beautiful supply of fresh vegetables from the produce department and an ample supply of jasmine rice at home. I was good to go!
That day I made seafood gumbo from a recipe I had reworked for years. It was a pleasant afternoon that created a delicious, hearty and comforting meal for dinner. Now, Seafood Gumbo is back on the rotation and thanks to premade roux and Market Street, it can happen multiple times a year… even on a weeknight.
Seafood Gumbo
Serves 8-10
1/4 cup vegetable oil
1 cup premade roux
8 cups seafood stock
2 cups water
1 14.5 ounce can unsalted diced tomatoes
1/4 cup Worcestershire sauce
2 bay leaves, torn in half
1/2 teaspoon cayenne
1/2 teaspoon dried thyme
1 1/2 cup onion, diced
1/2 cup celery, diced
1 cup green bell pepper, diced
5 cloves garlic cloves, chopped
1 1/2 teaspoons kosher salt
1 pound shrimp, peeled and deveined
1 pound white fish (like cod or catfish)
8 ounces lump crab meat (pick through for shells)
10 ounces okra, sliced (frozen okra also works)
1 tablespoon filé powder
cooked white rice
green onions, sliced
parsley, sliced
In a large sauce pan, warm the stock and water. Meanwhile, in a large Dutch oven, combine the oil, onion, celery, bell pepper and 1/2 teaspoon salt. Cook over medium heat for 10 minutes, or until softened. Add the garlic at the end of the 10-minute cooking period, and stir until fragrant (about 1 minute).
Add the premade roux to the vegetable mix, stir well until it is combined. Pour in the stock mixture. Add the tomatoes, Worcestershire sauce, 1 teaspoon salt, bay leaves, cayenne and thyme. Simmer covered for 45 minutes to 1 hour, or until reduced and thickened. Stir occasionally.
Add the shrimp, white fish, crab, okra and filé powder. Cook through for another 10 minutes (be sure to break up the white fish with a wooden spoon after it has cooked through). Salt to taste. Serve over white rice topped with green onions and parsley.
Category: What's Cooking