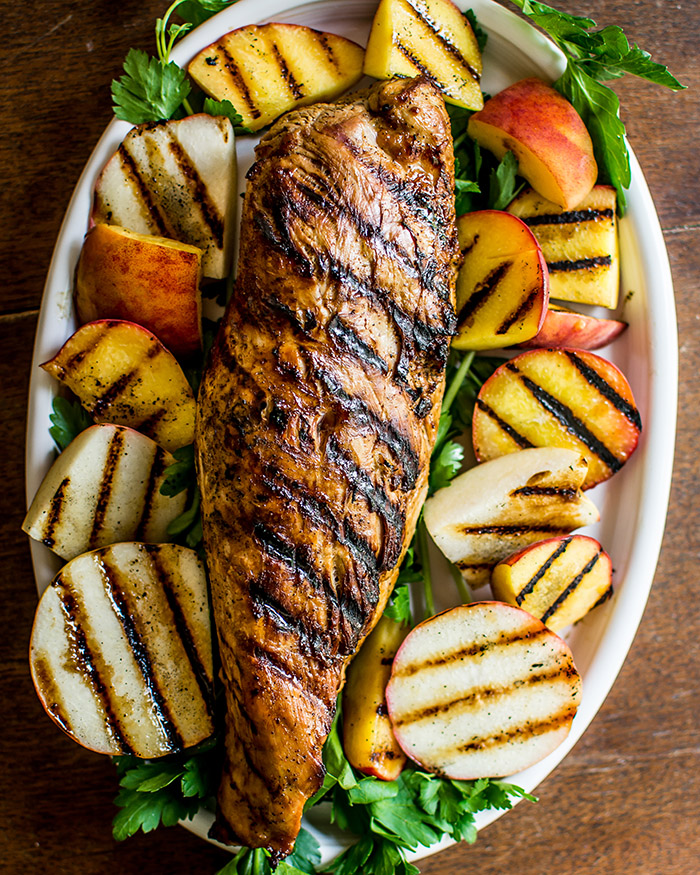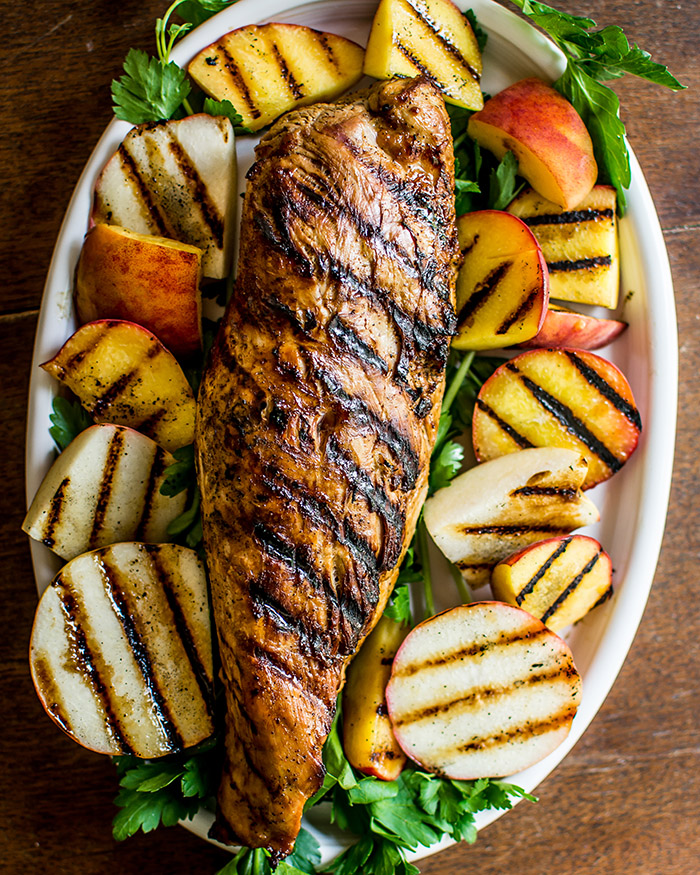 ---
Post and images by guest blogger, Rebecca White, of A Pleasant Little Kitchen.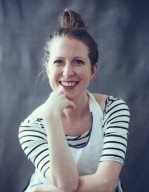 Visit her full blog or find out more about her here.
---
Grilling and Father's Day go hand-in-hand. The perfect way to celebrate involves cooking over open flames and gathering outdoors with the ones you love. The environment, people and food make this day memorable.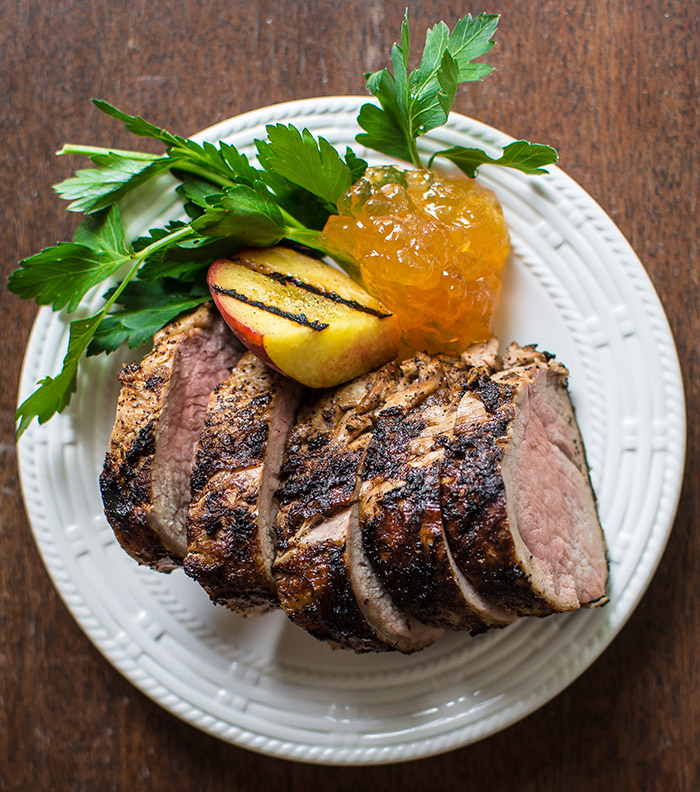 Market Street wants to help you make this day even more special with their quality ingredients and seasonal produce. This Father's Day incorporate some of summer's best produce (peaches!) to highlight how sweet dad is.
Spicy Peach Grilled Pork Tenderloin combines sweet, spicy and salty into one outstanding recipe that will make dad feel extra special.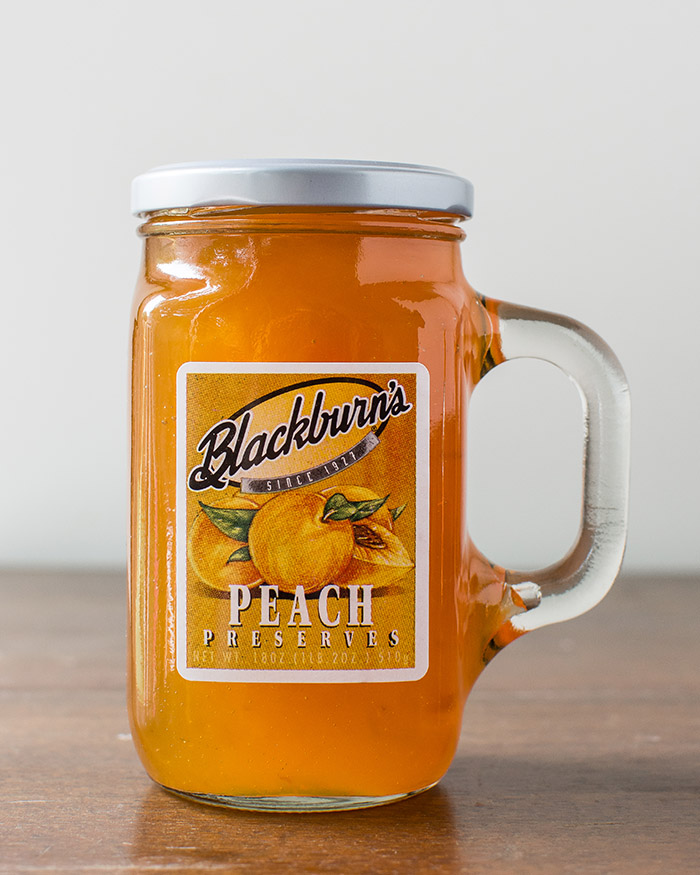 Two pork tenderloins are marinated overnight in a chili-infused mayonnaise. Before grilling, the tenderloins are coated with peach preserves to give them a layer of sweetness. Fresh peaches from Market Street's produce department are then grilled to caramelized perfection making them this dinner's perfect partner.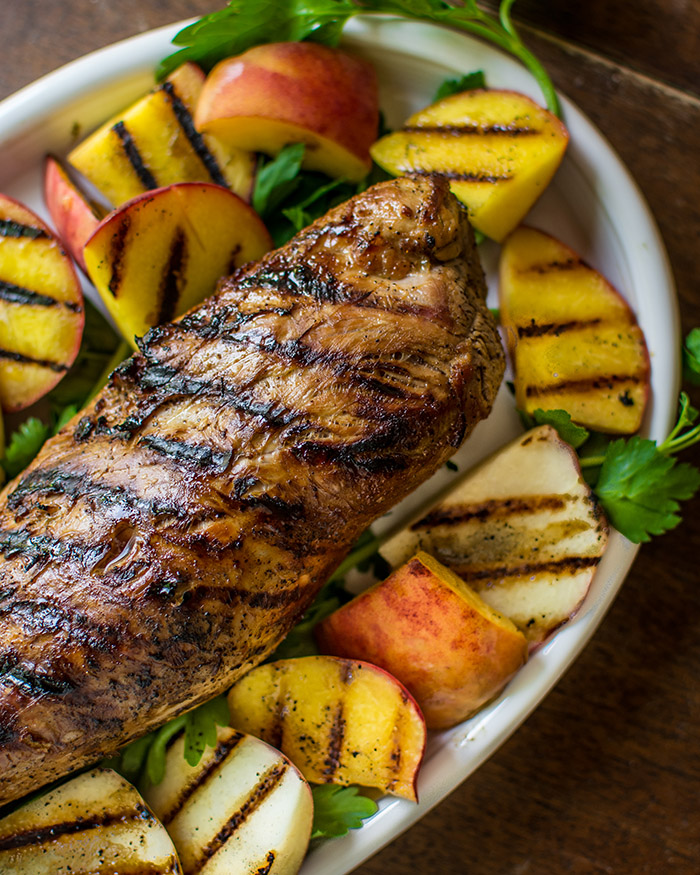 The grilled peaches may be my favorite element of this meal. When selecting the peaches be sure to get a variety of peaches to grill. Market Street's selection ranges from white to yellow— the bounty of Market's Street's peaches is a delight to encounter. Be sure to check-out Fredricksburg Co. Peaches—they are fresh from the Hill Country, and are a shining star.
Peach season is one of my favorite seasons at Market Street—and when combined with celebrating the men in my life who give and serve with all their hearts, it's basically the sweetest thing happening in June.
---
Spicy Peach Grilled Pork Tenderloin
Serves 8
Author note: To cook the pork tenderloin in the oven follow these instructions: Heat a cast iron skillet over medium-high heat on the cooktop. Place the pork tenderloin into the skillet and sear,3 minutes per side, for a total of 6 minutes. Place the pork onto a rimmed sheet pan, place into the oven and cook for 14-20 minutes at 425 degrees, or until pork reaches 140 degrees.
1/2 cup mayonnaise
1/2 teaspoon dried thyme
1 teaspoon cayenne powder (plus more for additional heat)
1 teaspoon kosher salt
1 tablespoon chili powder
1 tablespoon Worcestershire sauce
2 1 1/4 pounds pork tenderloins
1/2 cup peach preserves
fresh peaches, sliced
Combine the mayonnaise cayenne, thyme, kosher salt, chili powder and Worcestershire into a small bowl. Mix well.
Cover the two tenderloins evenly with the mayonnaise mixture. Cover and place in the fridge for at least 6 hours up to 24 hours.
When ready to cook, remove the pork tenderloin from the fridge and bring to room temperature for 30 minutes. Coat the pork with the peach preserves.
Heat the grill to 350-400 degrees.
Place the pork tenderloin onto the grill and grill over direct heat for 15-20 minutes or until the temperature reaches 140 degrees. Rotate and turn the pork every 5-10 minutes for even cooking.
Remove the pork and cover. Let rest for 10 minutes.
Place the peach slices onto the grill. Cook until caramelized with grill marks. Slice the pork. Serve with grilled peaches and additional peach preserves.
Category: What's Cooking