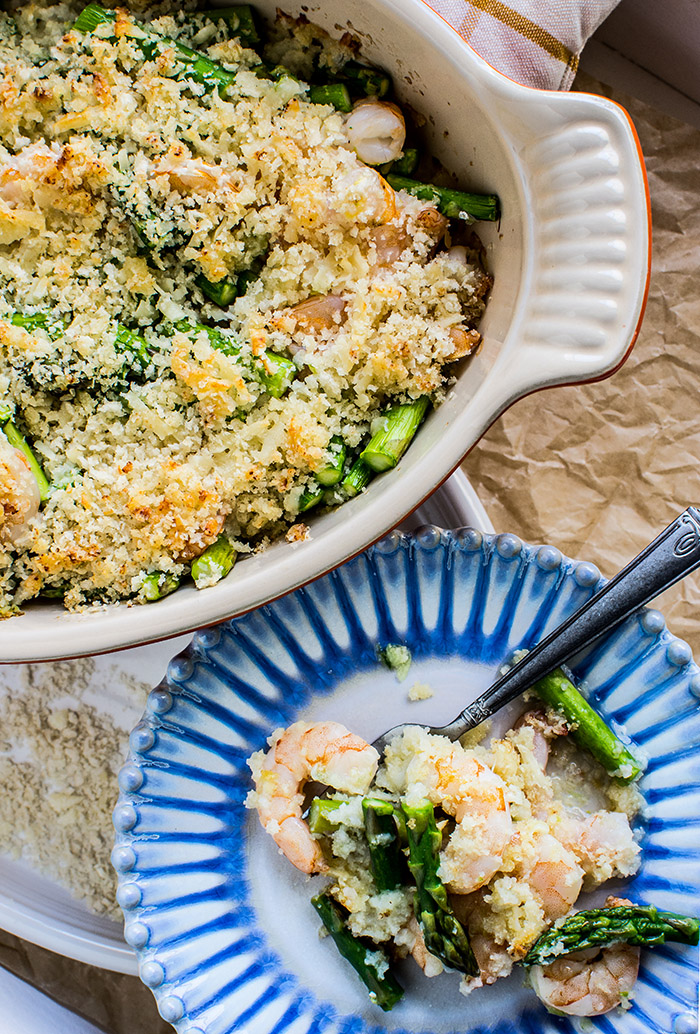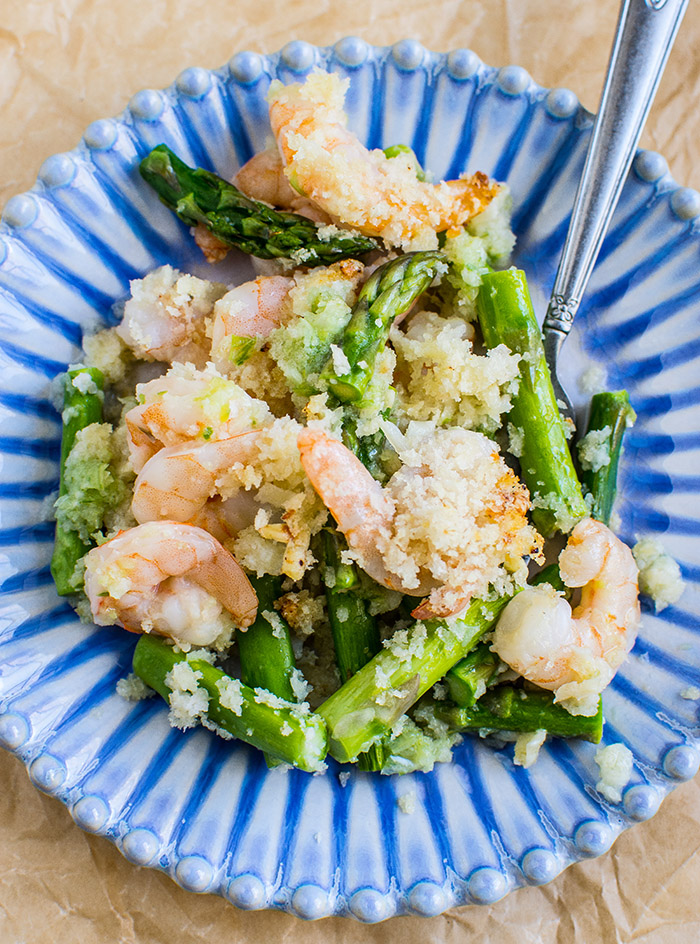 ---
Post and images by guest blogger, Rebecca White, of A Pleasant Little Kitchen.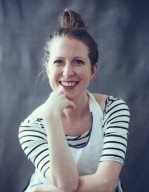 Visit her full blog or find out more about her here.

---
Dinner doesn't need to be daunting. It should be an experience where you improve your craft as a Creative Dinner Creator.

That's the way I view it at least, and as the kids get older and the schedules seem to get busier I lean on recipes that are quick and require fewer ingredients. However, just because something is simple to put together, doesn't mean it has to be a so-so meal. It's going to be spectacular.
---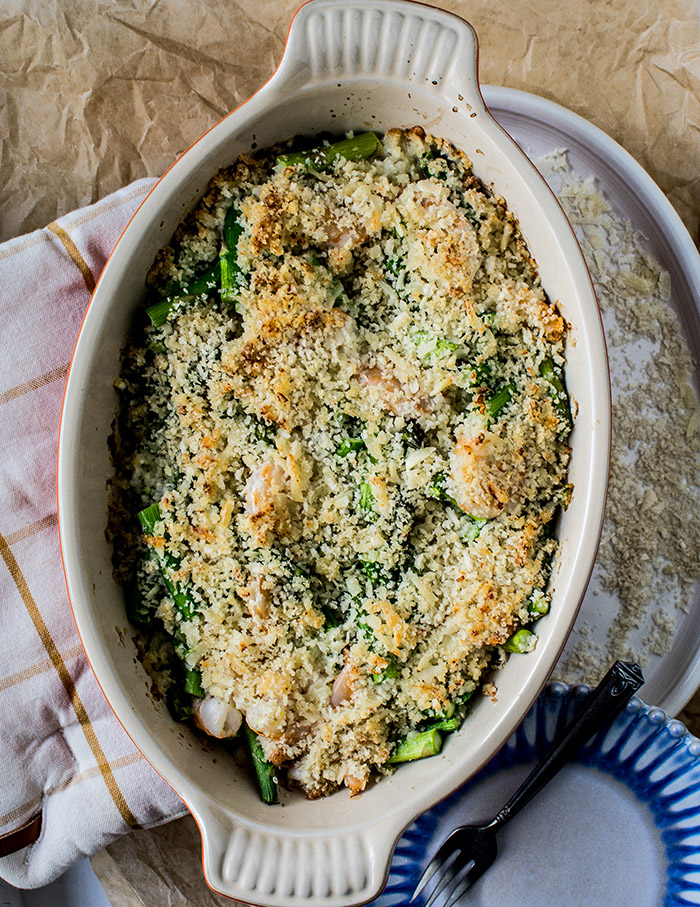 ---
Easy dinner can be GOOD. It SHOULD be good. Here's one golden recipe that I think you will find yourself using over and over again because it's just so delicious: Shrimp and Asparagus Gratin

*WARNING*
This recipe does require a make-ahead step. You might hesitate at that but trust me, it's worth it and pretty simple: Onion Compound Butter.
---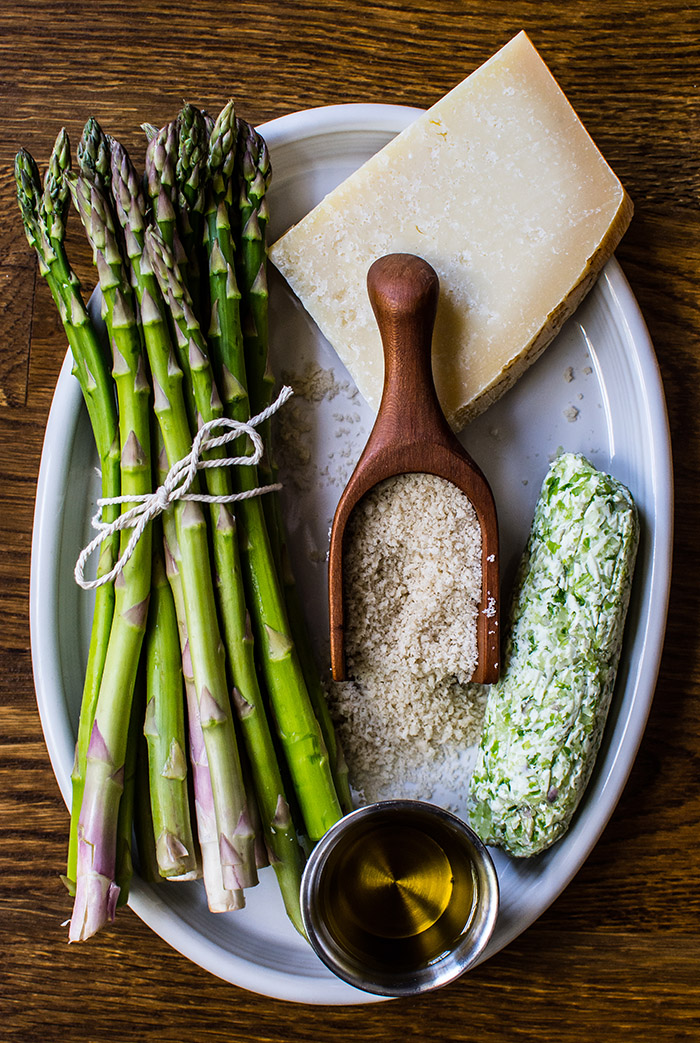 ---
Now, don't turn away. Just because there might be a word your unfamiliar with or seems "technical" it doesn't mean this recipe isn't for you. Remember that first line—you are the Creative Dinner Creator. Here's your chance to shine.
Onion Compound Butter simply requires butter at room temperature, green onions and white onions. Place them all into a food processor and tada! Onion butter. Scoop out and place in an airtight container. High-five the air and walk away. You, my friend, just made onion butter that can be used in this gratin or even melted for scrambled eggs (de-lish!)
END OF WARNING*
---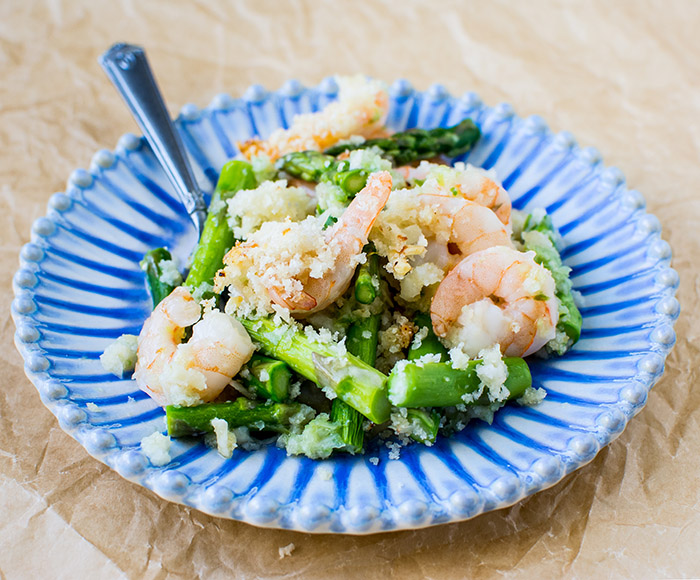 ---
This gratin is a combination of onion compound butter, garlic, shrimp, asparagus, white wine, bread crumbs and (drum roll please…) parmesan cheese. It is oh-so delicious and oh-so EASY to put together.

I'm so excited to share it with you—but first, lets talk ingredients!
Spring has arrived—which means asparagus season is here and Market Street has their produce section brimming with loads of healthy goodies. This quick cooking veg is the perfect weeknight healthy component.
---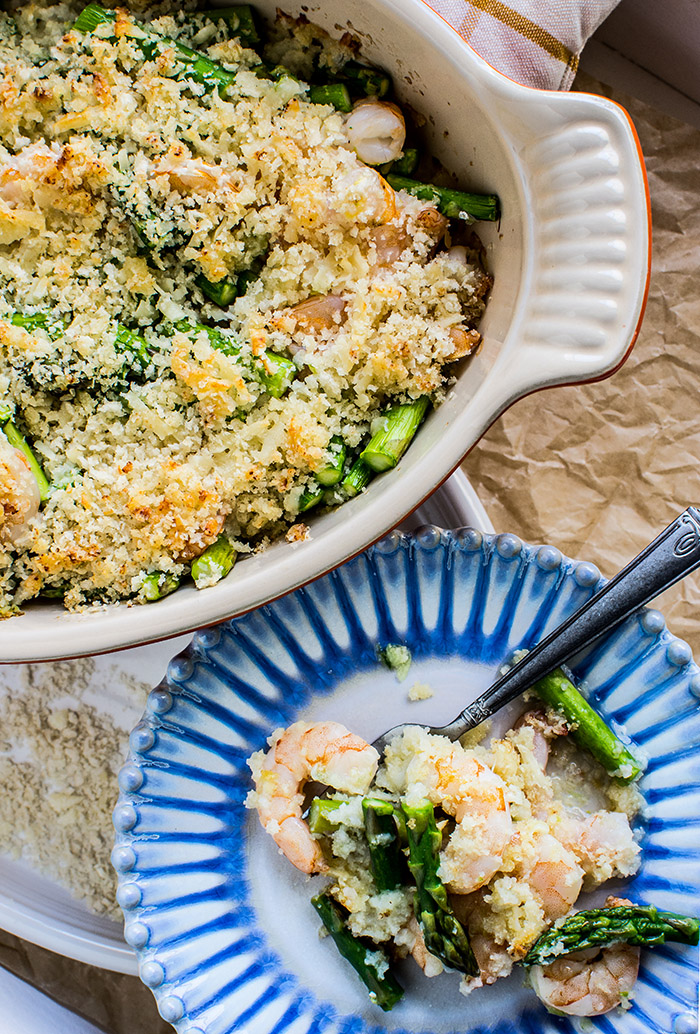 ---
What pairs beautifully with asparagus? Shrimp, parmesan cheese, white wine and lemon! All the other components that make this meal full of flavor.

Before you start frolicking through the produce section grabbing your beautiful asparagus, green onions, lemons and garlic; stop off at the fish monger. Ask for a pound of shrimp and if it's not peeled, ask him to help you out! That's the beauty of the Market Street fish monger—they are here to help make dinner easier for you. Then while the shrimp is being prepped, you can enjoy the great outdoors, indoors at the Market Street produce department.
Before you know it the cart will be full of gratin goodies and the shrimp will be ready to be picked up. Once home you'll become a gratin making machine, whipping up this weeknight meal because it's just so stinkin' easy to put together.
---
Shrimp and Asparagus Warm Salad with Onion Butter
Serves 4-6
1 pound shrimp, peeled deveined
1 pound asparagus
3 tablespoons onion butter, see recipe below, softened
3/4 teaspoon kosher salt
1/2 lemon zest
1/2 cup parmesan cheese
1/2 cup panko breadcrumbs
2 tablespoons extra-virgin olive oil
1/4 cup white wine
Heat the oven to 400 degrees
In a large bowl, combine the onion butter, salt, lemon zest, 1 tablespoon olive oil and garlic. Stir well. Add shrimp and asparagus to the mixture and stir well to combine.
In a small bowl, toss breadcrumbs with 1 tablespoon extra-virgin olive oil.
Place shrimp mixture into a large gratin dish (or a shallow glass baking dish). Add the white wine and then top with breadcrumbs and parmesan cheese. Bake 15-20 minutes or until the shrimp is cooked and the top is browned.
---
For the Onion Butter

2 large shallots
1 cup green onion
1 1/2 sticks unsalted butter, softened
Place onions in food processor. Puree. Add butter. Puree until combined. Scrape sides of bowl as needed.
Store in airtight container or plastic wrap in the fridge for up to one week.
Category: What's Cooking