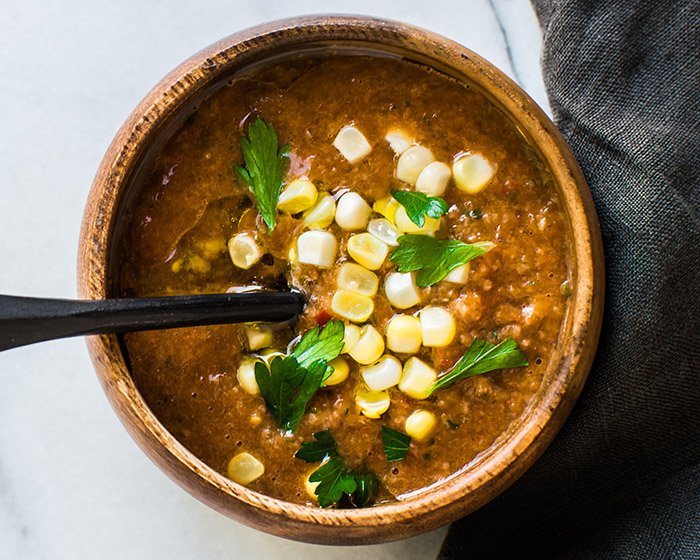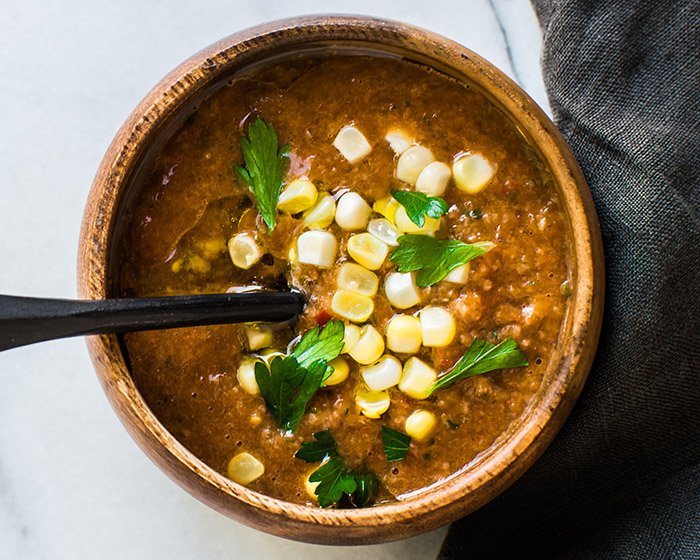 ---
Post and images by guest blogger, Rebecca White, of A Pleasant Little Kitchen.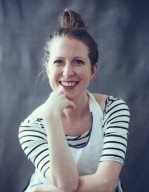 Visit her full blog or find out more about her here.
---
Fresh and rustic, gazpacho is the recipe you need to make so you can consider summer a success..
There are a few approaches to making gazpacho and I prefer the one that requires little time and no heat.
All it takes is a quick rough-chop of beautiful, organic produce from Market Street and a thorough blitz in the food processor and the gazpacho work is finished.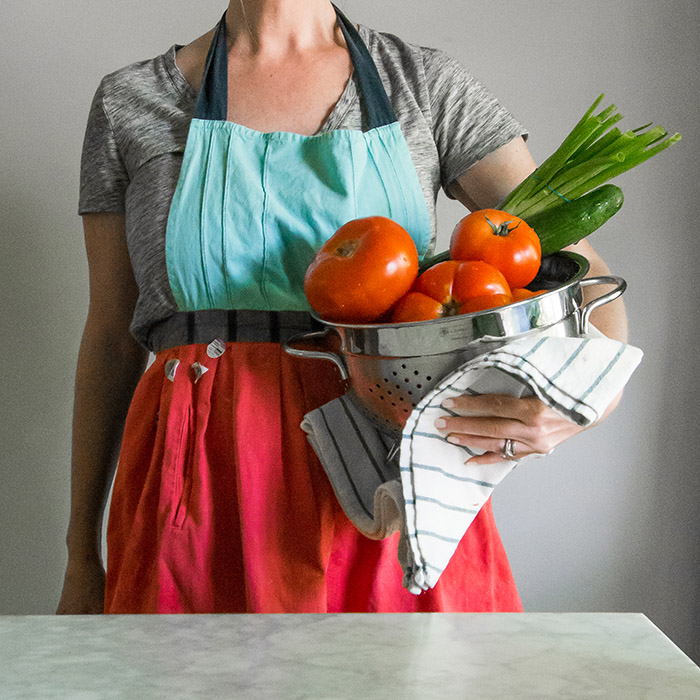 There are two requirements for gazpacho to be a sure-fire hit: ripe produce and time. The first necessity, fresh, ripe produce is a given—you're shopping at Market Street! The second requirement, time, is pretty simple too.
It's the time in the fridge that makes the flavors of gazpacho shine. It takes time for the tomatoes, cucumbers, bell peppers, vinegar and oil to meld together and it's worth it.
A few hints on rustic gazpacho:
1—It takes time to develop flavor. Leave the gazpacho in the fridge for at least 6 hours before service.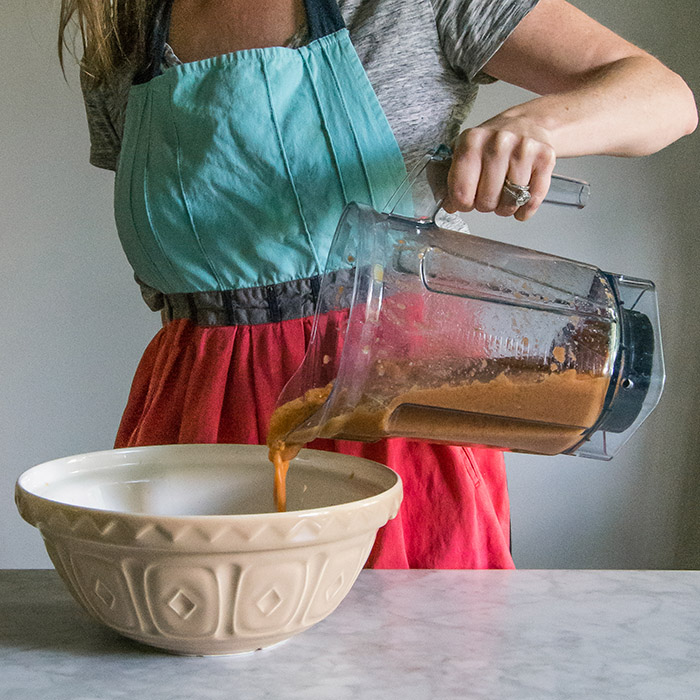 2—You want the gazpacho to be COLD when serving it.
3—Get creative with the toppings. I enjoy fresh corn and a few freshly chopped herbs.
4—Rustic gazpacho does tend to be a bit bitter due to the tomato peels. If you want to peel the tomatoes before blitzing, go for it. Follow these instructions if you want to remove the tomato peel: score the tomatoes with a knife, bring a pan of water to boil, place the tomatoes in the water for 1 minute, immediately submerge the tomatoes into an ice bath, remove the skins.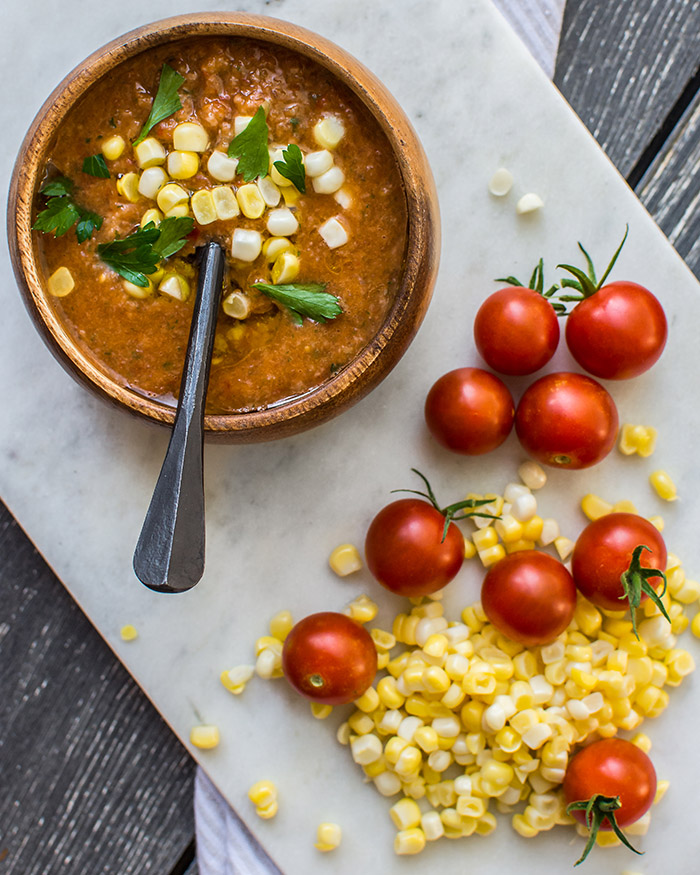 If you want to make the gazpacho a bit more filling, grab panko bread crumbs from the International Aisle at Market Street. This starch will make the soup a bit heartier.
I love summer and fresh ingredients. That's why Market Street is my go-to spot to hand pick the best that summer gardens have to offer!
---
Rustic Gazpacho
Servings 4-6
Author note: Gazpacho is a chilled Spanish vegetable soup that can be created in a variety of ways. This non-recipe is a rustic form of gazpacho, with a more textured finish than most traditional gazpachos. However, be creative. If the gazpacho ends up thick like salsa, add a few more pours of olive oil.
4 cups tomatoes, cored and cut into large chunks
2 bell peppers (I prefer red and orange), cored and cut into large chunks
1 large cucumber, peeled and cut into large chunks
2 teaspoons kosher salt
2 tablespoons sherry vinegar
1 cup green onions
1/4 cup and 1 tablespoon extra-virgin olive oil
extra-virgin olive oil, for topping
fresh corn, for topping
torn parsley, for topping
In a food processor, puree the tomatoes until watery and thoroughly broken down.
Next, add the cucumber, bell peppers, green onions, salt and vinegar into the food processor with the tomatoes. Puree until smooth.
While the processor is still running, add the olive oil in a steady stream until the soup is smoothed out and thickened.
Sample the gazpacho. Add salt, olive oil or additional vegetables as needed.
Store in an airtight container overnight (this is important in the development of flavor). Serve chilled topped with torn parsley, fresh corn and drizzles of olive oil.
Category: What's Cooking