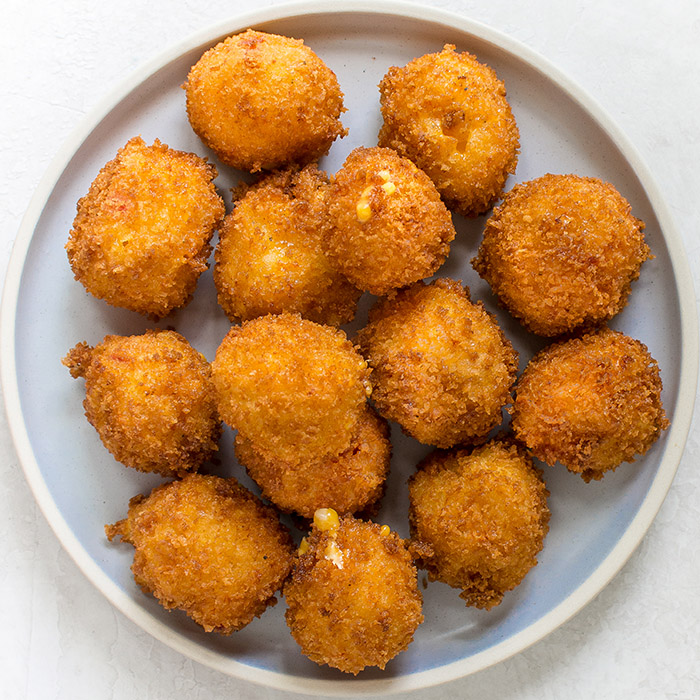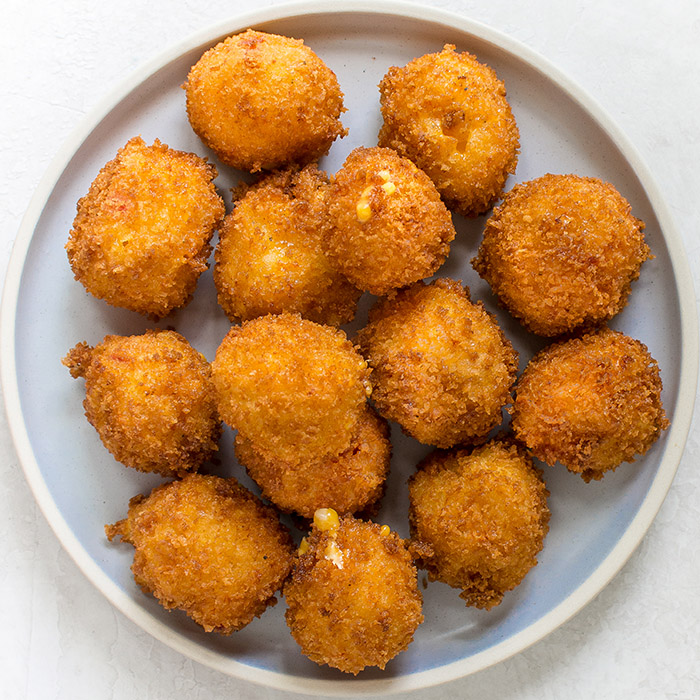 ---
Post and images by guest blogger, Rebecca White, of A Pleasant Little Kitchen.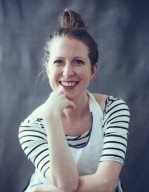 Visit her full blog or find out more about her here.
---
Pimento Cheese.
If you know and love this two-word concoction, you probably just exhaled a sigh of longing.
This salty-cheesy-creamy-glory can be eaten in a variety of ways; on a sandwich, as dip, in an omelet or, if you're a true lover with no shame… by the spoonful.
I've been known to grab a container or two during my weekly shopping jaunt to Market Street. Is it on the grocery list? No, but for items such as this… it doesn't need to be on the list to justify. It just needs to be in my kitchen.
I know you feel the same way. It's hard to resist this glorious southern staple. There's almost no wrong way to eat it.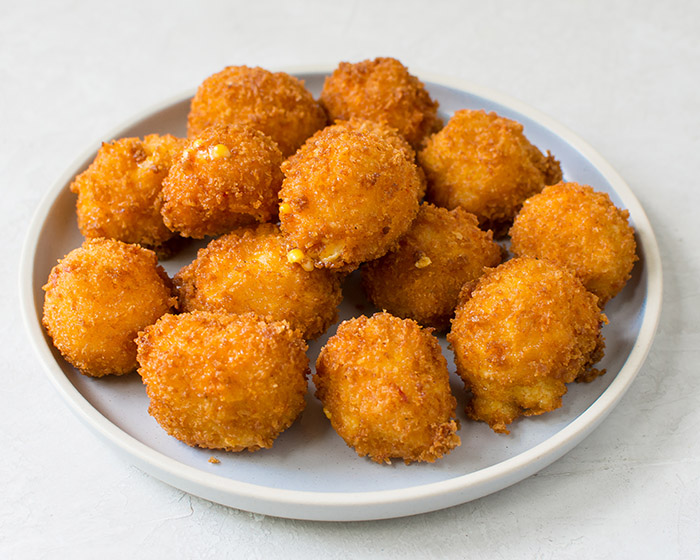 Recently I've added another way to cook and consume this decadent cheesy treat: dredged and fried.
Pimento Cheese Fritters are life changing, especially during entertaining season. And the easiest way to make a few batches (because you're going to want to eat A LOT of them) is to let your neighborhood market do half the work.
Take Market Street's homemade pimento cheese (it's in the deli section next to all those other treats like guacamole, salsa, 7 layer dip…you know that place!) and with a small ice cream scoop, create small bite-sized portions. Roll in flour and place on a parchment lined baking sheet.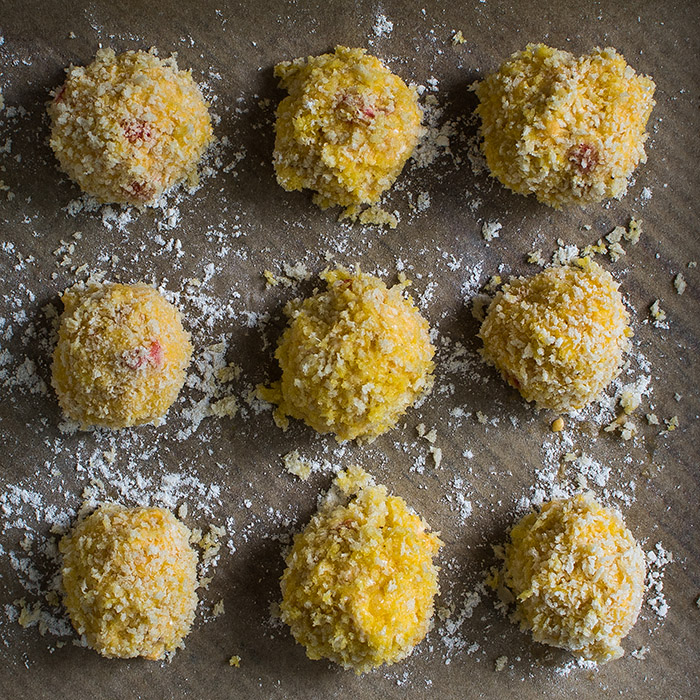 Next, dredge the pimento cheese balls in whisked eggs (check out the Pasture Raised Happy Eggs—their yolk is SO yellow and fabulous) and then panko breadcrumbs.
Place in the freezer for 30 minutes and while they are chilling in the freezer, utilize the time to heat vegetable oil. Heating large quantities of oil takes a while, especially when warming at medium heat. Also a kitchen thermometer is a must to guarantee a safe frying temperature of 375 degrees. Anything too hot is dangerous (PLEASE be careful!) and anything too low won't yield the perfectly fried cheese fritter that you're craving.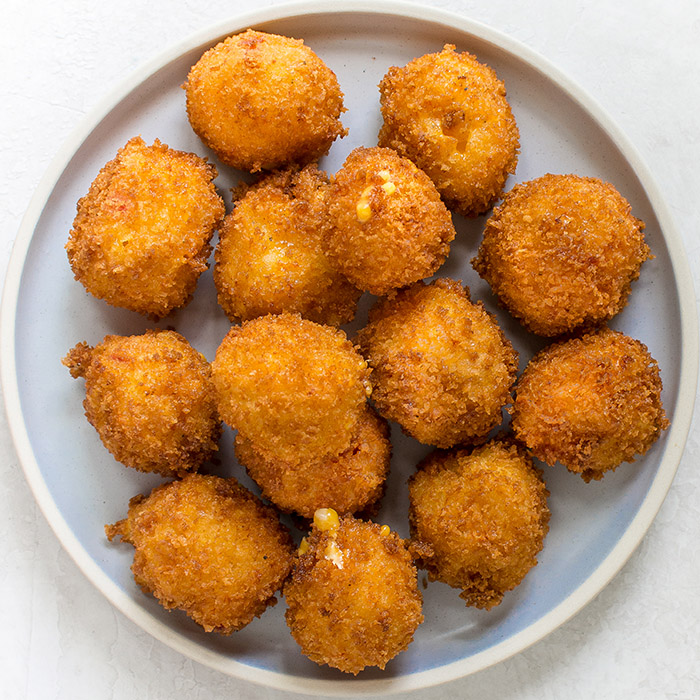 Once the oil is ready, pop these pimento cheese fritters into the oil and fry.them.up! If the oil is properly heated and at the right temperature it will take about 1 minute to fry the pimento cheese into Fritter Heaven.
Let the Pimento Cheese Fritters cool and drain on a paper towel and serve warm.
Oh! One more thing! These beauties are freezer friendly. So after frying bring the fritters to room temperature and place in freezable containers. Pop them into the oven on game-day or any other day you're craving fried cheese and viola!
Now, go get yourself some pimento cheese at Market Street and get frying!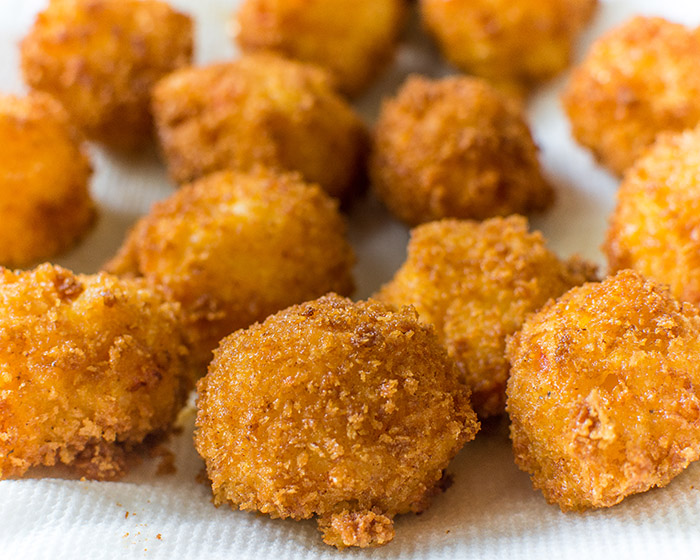 Notes on frying:
Frying can be dangerous. Be sure young children are not in the kitchen or near the cooktop while frying.
Maintain an eye on the temperature of the oil with a kitchen thermometer. This will guarantee a safe frying environment. You can find kitchen thermometers in the baking aisle at your local Market Street (they also want you to cook safely too!).
Do not, do not, do not pour the used oil down the drain. Let the oil cool to room temperature and then pour carefully into disposable containers. Throw away at this point. Some cities even offer an oil recycling service. Check with your city and see what services might be available.
---
Pimento Cheese Fritters
makes about 30
Author note: These fritters are freezer friendly. Once they have cooled, place into a freezer safe container. Reheat in the oven. To guarantee the temperature of the frying oil, use a kitchen thermometer.
1 pound pimento cheese, chilled
flour
4 eggs, whisked
panko breadcrumbs
vegetable oil
With a small ice cream scoop, scoop out the chilled pimento cheese and place onto a parchment lined baking sheet. Roll the pimento cheese into a ball and then dredge in flour. Place back onto the parchment lined baking sheet. Continue until all the pimento cheese is gone.
Dredge the pimento cheese balls into the whisked eggs and then the panko breadcrumbs. Set back onto the parchment paper. Place into the freezer and chill for 30 minutes.
Fill a saucepan with 1 inch of vegetable oil. Over medium heat bring the oil to 375 degrees. Fry the fritters until golden, turning frequently to prevent burning, about 1 minute total. Place onto a paper towel to drain. Serve immediately.
Category: What's Cooking