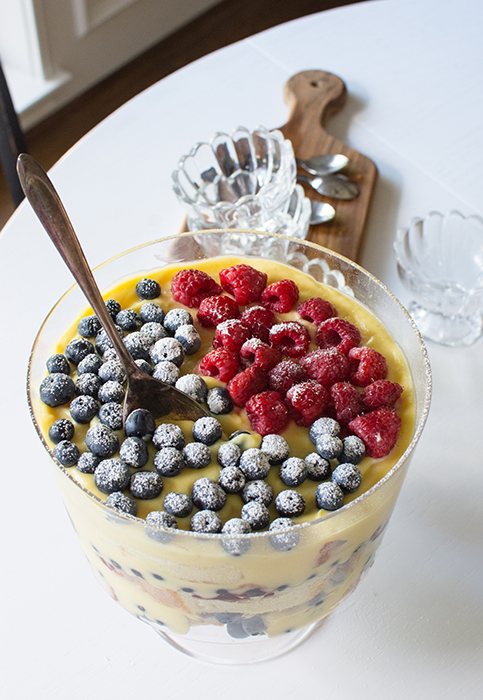 ---
Post and images by guest blogger, Rebecca White, of A Pleasant Little Kitchen.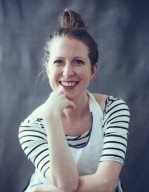 Visit her full blog or find out more about her here.
---
Being patriotic with dessert this Fourth of July just got a little bit more fancy and fun.
Patriotic Berry Trifle is a layered dessert that stacks pound cake, raspberry jam, fresh blueberries and Grand Marnier pudding on top of one another in a glass serving bowl. This layer of goodness is repeated one more time and then topped with pudding and fresh berries. It is a traditional English dessert that has, well, an American spin.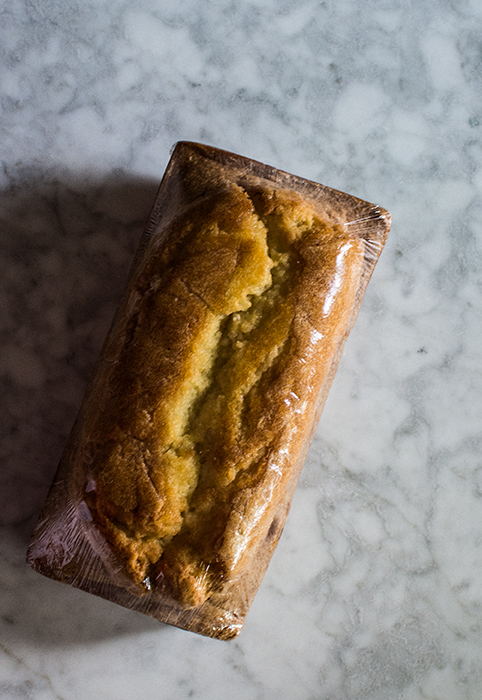 What is so wonderful about this desert is that it shows the colors of our nation's flag and highlights the beautiful berry produce of summer. It also has the flexibility to be as labor-intensive or as non-labor intensive as you would like.
If preferred, all elements can be homemade: pound cake, raspberry jam and pudding (also considered a custard). Or even just one element can be homemade. This is the path I chose when I selected the Grand Marnier pudding to make. I purchased the remaining ingredients from Market Street.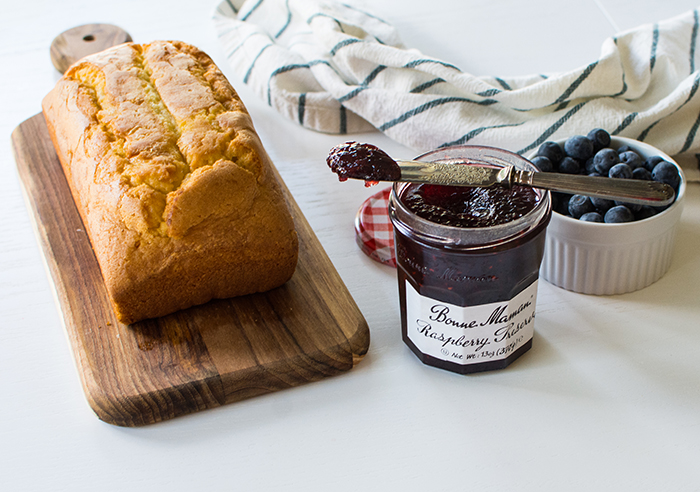 Market Street's Bakery is the perfect place to start to make this Patriotic Trifle. The bakery has a beautiful selection of freshly baked cakes to choose from—all shape, sizes and flavors. Whether you're looking for a birthday cake, a wedding cake, or a cake for any occasion (like the 4th!) Market Street is going to several have delicious varieties.
I snagged a few pound cakes for this dessert because it reminds me of my grandmother and her love of pound cake with fresh summer strawberries. However, an angel food cake would also be a great cake to use for this Patriotic Trifle. For the fruit I grabbed some organic blueberries and then picked up some well-loved Bonne Maman raspberry jam.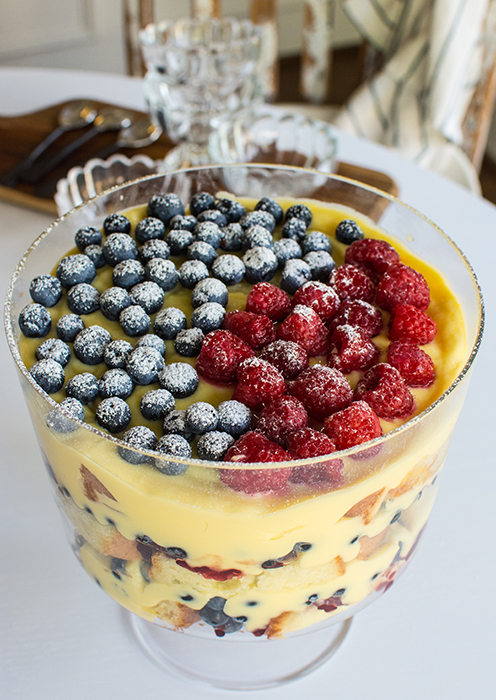 Pasture-raised eggs, organic cream, a bit of corn starch and I'm on my way to making a complete firecracker of a dessert. (Pro tip: If you even want to skip the homemade Grand Marnier Pudding, which I beg you not to because it is the STAR of this patriotic show, an instant vanilla pudding mix with a splash of Grand Marnier will do the trick!)
Turning a traditional English dessert into something Patriotic is the cherry on top to this dessert for this history loving, recipe-developer girl.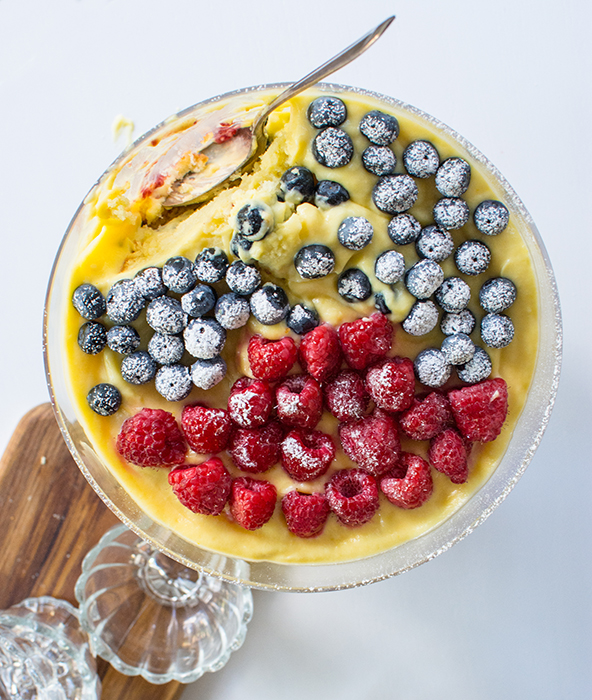 This trifle is an eye-catching and delicious treat. On first glance, it may appear to be a tremendous dessert to tackle, but the fact is, it is an easy sweet feat.
This Fourth of July celebrate With Market Street. Make a red, white and blue dessert that is eye catching, utilizes all of the flavors of summer and has a bit of historical humor.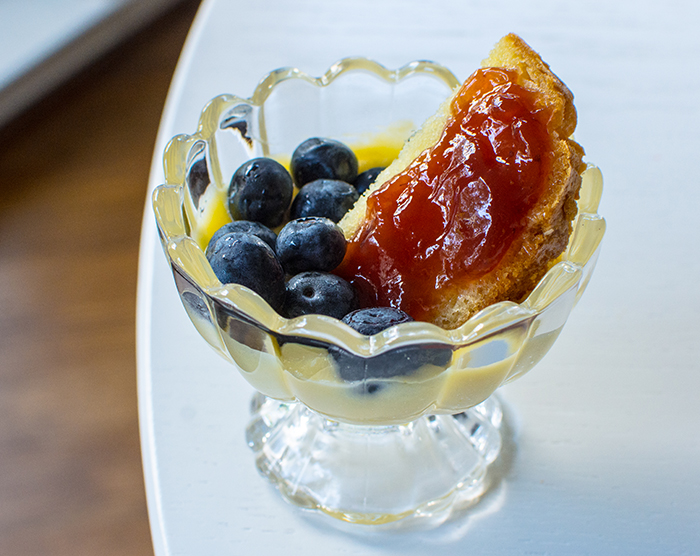 P.S. Keep in mind, if you want to stick with a smaller version of this patriotic dessert, no worries! Just add a scoop of pudding, a slice of raspberry jam-covered pound cake and fresh blueberries into a small serving bowl. Easy peasy.
---
Patriotic Trifle
Serves 10-12
Author note: The laborious task to this dessert is retrieving 10 egg yolks. Give yourself a little bit of grace, I typically go through about 12 eggs before I get my 10 egg yolks. A way to prevent food waste in this situation is to remove your egg whites and egg yolks by using three separate bowls. One bowl is used collect the egg white during the initial separation from the yolk. Place the white into a second bowl (where all the unused whites will be collected and saved for further use) and place the yolk in a third bowl. Using separate bowls when first cracking the eggs helps keep the majority of the whites and yolks free from shells and broken yolks. The egg whites can be easily turned into several things—meringue to top pies, meringue cookies, egg drop soup, egg white omelettes. There are many options.
2 pound cakes, cut into thick slices to fit the interior of the serving bowl (I do this as I'm building the trifle)
1 jar raspberry jam
2 pints blueberries
Grand Marnier Pudding, recipe below
fresh raspberries, chilled for topping
fresh blueberries, chilled for topping
powdered sugar, for topping
1) In a large glass trifle bowl or serving bowl add a layer of pound cake. Cover the cake with an even layer of raspberry jam. Top the jam with an even layer of blueberries. Cover the blueberries with a generous layer of pudding.
2) Repeat step one. Finish with a final layer of pound cake slices.
3) At this point, cover the trifle and place in the fridge to chill for at least 3 hours. Place the pudding and berries in the fridge to chill as well.
4) Right before service, remove the trifle from the fridge. Add a final layer of pudding and top with berries. Lightly dust the berries with sifted powdered sugar. Serve immediately.
for the Grand Marnier Pudding
1 cup cream
3 cups whole milk
1/4 teaspoon kosher salt
1 teaspoon vanilla extract
2 tablespoons Grand Marnier, or favorite orange liqueur
1/4 cup unsalted butter
10 egg yolks
1 cup sugar
1/4 cup cornstarch
1) In a large saucepan combine the cream, milk, salt, vanilla extract, Grand Marnier and butter. Cook over medium-low heat until the butter is melted, about 10-15 minutes. Stir occasionally.
2) Whisk the egg yolks and sugar in a large mixing bowl until combined.
vWhisk the cornstarch into the yolk and sugar mixture. Do this in small batches, until there are no lumps of cornstarch.
3) Remove the liquid from the stovetop and temper the sugar egg mixture. To temper, whisk the egg mixture quickly while slowly adding the warm liquid (about 1/4 cup at a time) until all the liquid is combined. Now you have created a custard.
4) Pour the custard back into the saucepan. Cook over medium-high heat. Whisk constantly until the custard is thick and almost boils, about 6 minutes.
5) Strain the pudding into a large bowl. Cool. Store in an airtight container in the fridge.
Category: What's Cooking