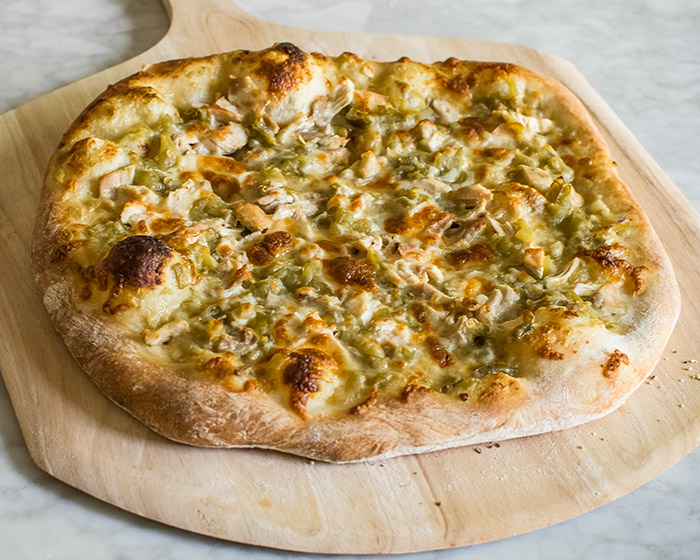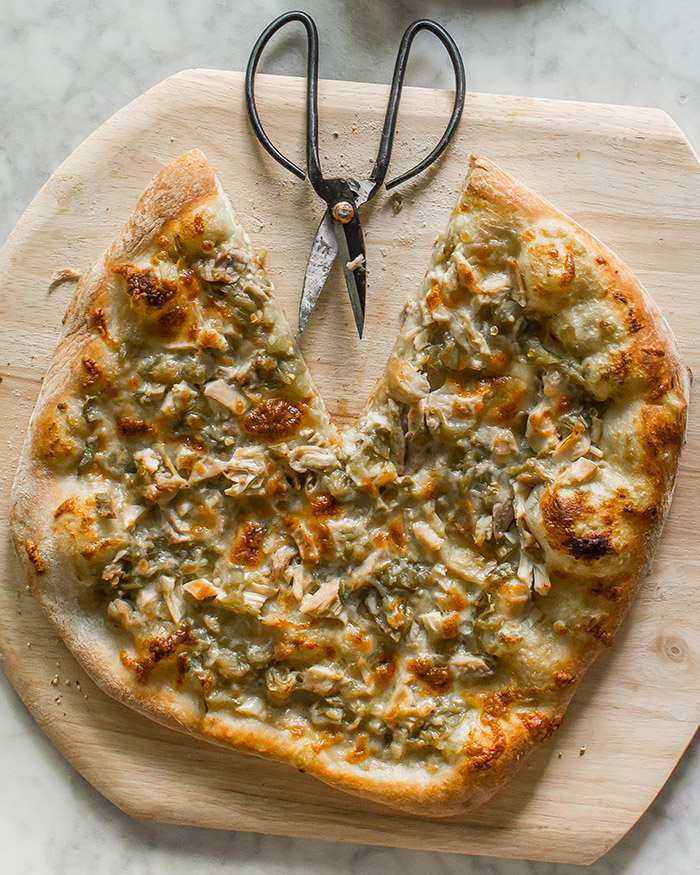 ---
Post and images by guest blogger, Rebecca White, of A Pleasant Little Kitchen.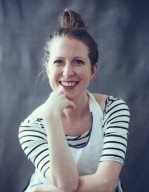 Visit her full blog or find out more about her here.
---
Hatch chiles makes me happy. Like really happy. Pizza is another one of these mood lifters--- so, it only makes sense that I would combine the two this Hatch season.
I've been counting down the days until Market Street opens the gates to Hatch Heaven. The beginning of August marks the start of their Hatch festivities. It might (there's just so many wonderful seasons to choose from!) be my favorite Market Street time of the year.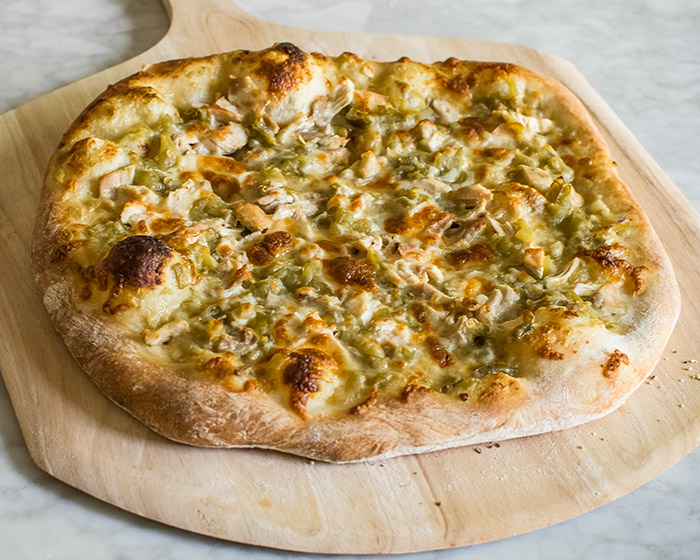 On the weekends the delicious unmistakable scents of roasting Hatch chiles greets every shopper as they walk into the store. Every day the bakery is baking all things Hatch. And the butcher and to-go counters are busy incorporating Hatch flavor into a variety of products.
All this Hatch hustle from Market Street makes me want to bring Hatch into some of my family's favorite homemade dinners, like homemade pizza. I have found that it's quite easy and fun to incorporate the bounty of August with baked bread and cheese.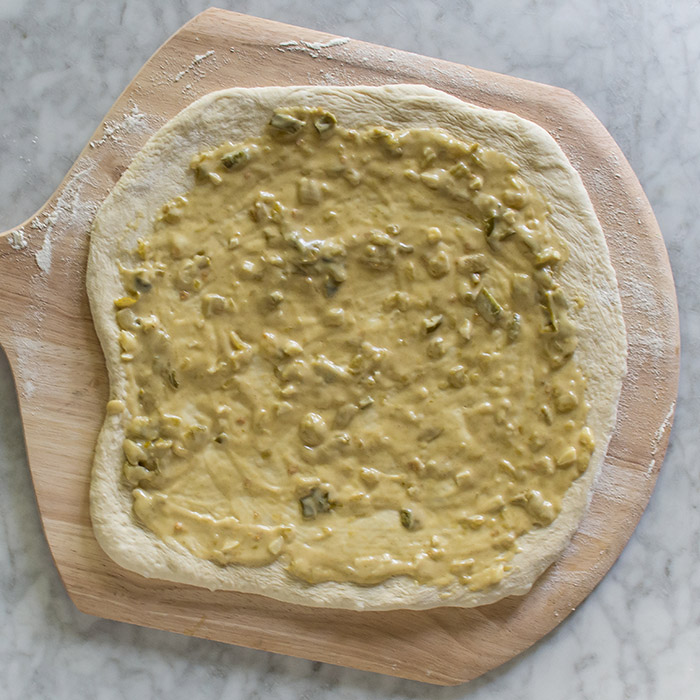 What's beautiful about Hatch Chile Chicken Pizza is that Market Street has already prepared 3 of the 4 main ingredients: rotisserie chicken, roasted Hatch chiles and pizza dough (found in the refrigerated section!).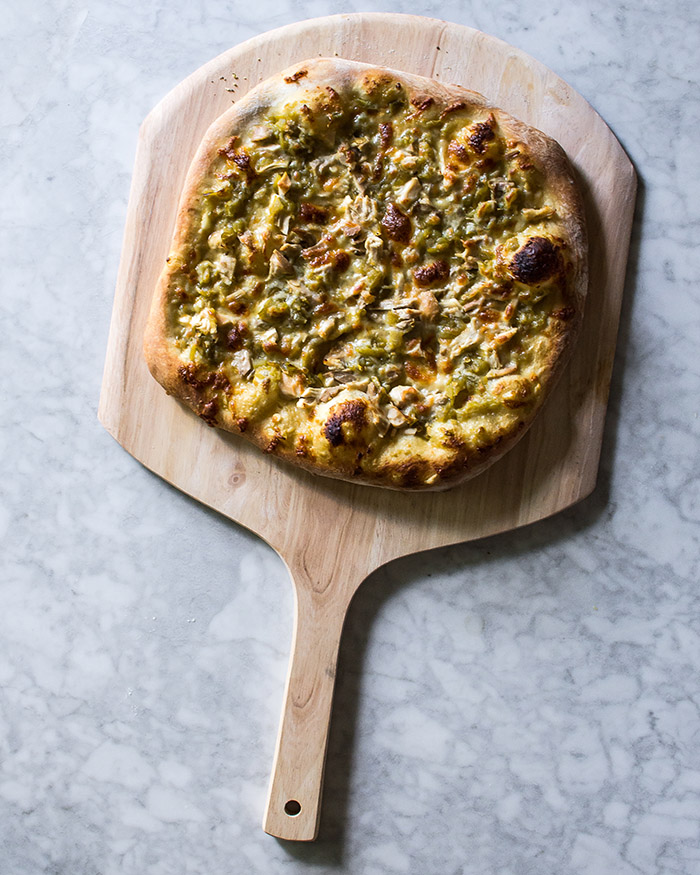 All you'll need to do is make the cream sauce, assemble the pizza and bake it. While the cream sauce *does* take a few extra minutes, it's worth it. The sauce is filled with the richness and depth of flavor that only Hatch chiles have. Plus, it makes enough for 2-3 pizzas so be sure to invite people over!
Market Street knows how to make Hatch season special, and this Hatch Chile Chicken Pizza is another reason why Hatch season is the best season.
---
Hatch Chile Chicken Pizza
Author note: The sauce makes enough for 2-3 pizzas. Double the chicken to accommodate additional pizzas if necessary. This recipe was also featured in The Dallas Morning News (click here for full story and recipe).
3 tablespoons butter
1 jalapeno, seeded and finely diced
2 tablespoons plus 2 teaspoons flour
5-6 garlic cloves, chopped
1 cup white wine
3/4 cups heavy cream
1 1/2 cups Hatch green chiles, seeded and diced
1 3/4 teaspoon kosher salt
1 teaspoon cumin
pizza dough
3/4 cup roasted chicken, shredded
juice of 1 lime
shredded mozzarella
chopped fresh cilantro, optional topping
In a sauce pan melt the butter over medium heat. Add the jalapenos and cook until softened, about 2 minutes. Add the flour and incorporate with a whisk. Continue to whisk until the roux (the butter and flour mixture) becomes golden brown.
Add the garlic and cook for 1 minute. Whisk in the white wine and bring to a boil.
Reduce the heat to medium-low and add the cumin, cream and 1 cup of Hatch green chiles. Let simmer for 15-20 minutes or until the sauce has thickened and reduced. Turn off the heat and add the juice of 1/2 a lime. Stir to combine.
While the sauce is simmering, place the chicken into a bowl and top with 1/4 teaspoon kosher salt and juice of half a lime. Set aside.
Turn the oven to 500 degrees.
Roll out the pizza dough onto a floured surface. Add a few spoonfuls of Hatch chile sauce to the top of the dough. Be sure to evenly spread out the sauce. Keep in mind that too much sauce will make for soggy pizza. Evenly distribute the chicken on top of the pizza.
Top with 1/2 cup (or more) chopped green chiles and shredded mozzarella.
Bake in the oven for 10-14 minutes or until the pizza is golden and the cheese melted.
Top with optional cilantro and serve immediately.
Category: What's Cooking