---
Post and images by guest blogger, Rebecca White, of A Pleasant Little Kitchen.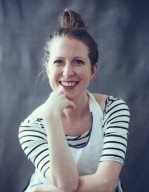 Visit her full blog or find out more about her here.
---
Rosemary Grilled Shrimp
The grill is lit and the guests are on their way. There's a party happening in your backyard and the finger foods need to be top-notch.
Shrimp is one of the easiest ingredients to prepare. This protein needs minimal marinating time (30 minutes does the trick) and it cooks in a flash (about 6 minutes). Shrimp is easy to plate, serve and eat. What's not to love?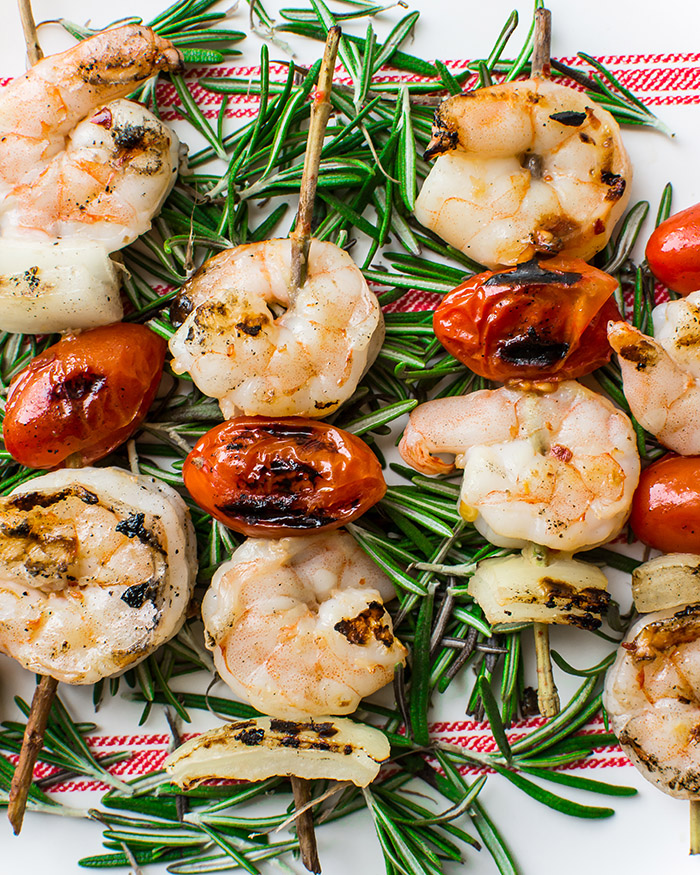 Another benefit to this well-loved ingredient is that when you shop at Market Street the cost of buying LOTS of shrimp is always a steal. Reasonable prices and quality seafood make my entertaining heart VERY happy.
The one bit of labor when grilling shrimp is the kebab factor. When I grill shrimp I like to have them on skewers to make the cooking less involved (instead of turning the shrimp individually, all you have to turn are skewers). Pile shrimp onto a skewer, throw on the grill and turn after 3 minutes. After 6 minutes of grilling, they are done.
Instead of wooden or stainless-steel skewers, I want to throw a creative branch in the mix. I want you to grill shrimp on rosemary skewers.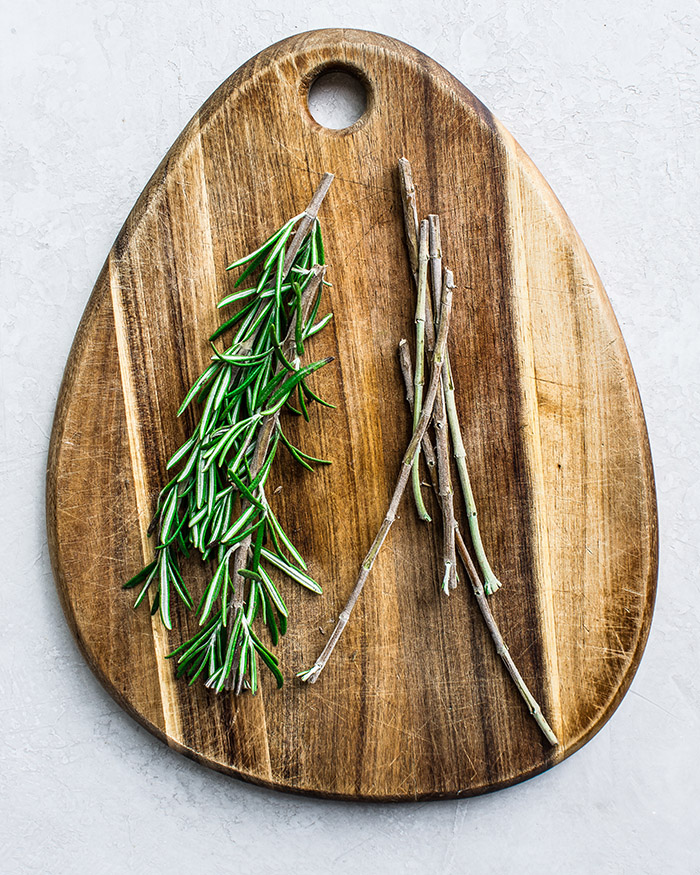 Say what?
You heard me! After you've grabbed the peeled and deveined shrimp—head to the produce section at Market Street. Find the organic herbs add a few bundles of rosemary to your glorious grocery cart. This fragrant herb is going to infuse the shrimp while you grill it because the rosemary branch will become the skewer.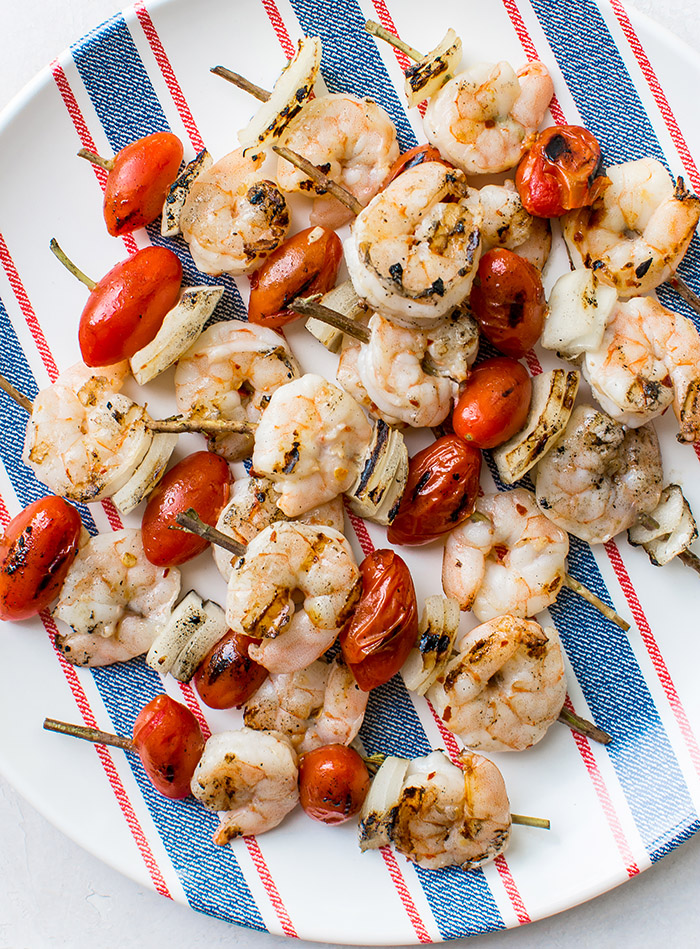 This shrimp is a delight—it's earthy, fragrant, sweet and addictive.
Suddenly the much-loved grilled shrimp is a conversation piece because of the delightful serving branch. Let your guests ooooh and ah over this organic and creative way to cook seafood over open flames.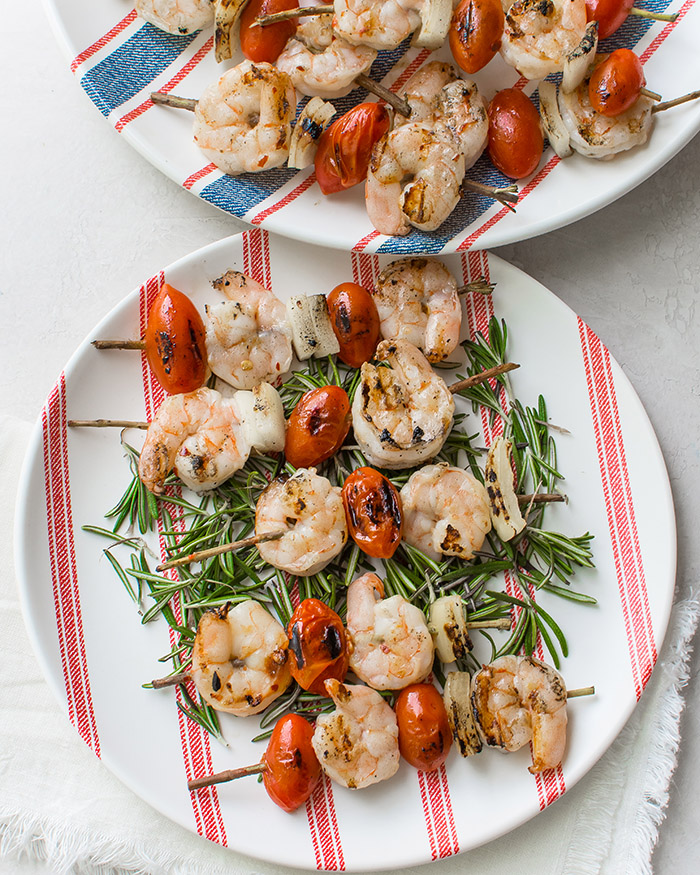 ---
Grilled Rosemary Shrimp and Tomato Skewers
Servings vary
Author note: Be sure to examine the rosemary before you purchase. You will need thick rosemary branches to create a skewer from its branches.
1 pound shrimp, peeled and deveined
10 ounces cherry tomatoes
1 onion white onion, cut into bite-sized pieces
2 tablespoons extra-virgin olive oil
3/4 teaspoon kosher salt
1/2 teaspoon red pepper flakes
4 garlic cloves, chopped
Heat the grill to medium heat, about 350 degrees.
Place all ingredients (except the rosemary) into a large plastic bag or medium sized bowl. Combine and coat. Let marinate for at least 30 minutes up to 24 hours.
Remove the leaves from the rosemary sprigs to create rosemary skewers.
Place the shrimp, tomatoes and onion onto the rosemary skewers. I prefer 2 shrimp for each skewer.
Place the rosemary skewers onto the grill. Cook about 3 minutes per side, for a total of 6 minutes. Remove and serve hot or place in the fridge and serve cold.
Category: What's Cooking