Grilled Old Bay Pork Tenderloin and Grilled Baked Beans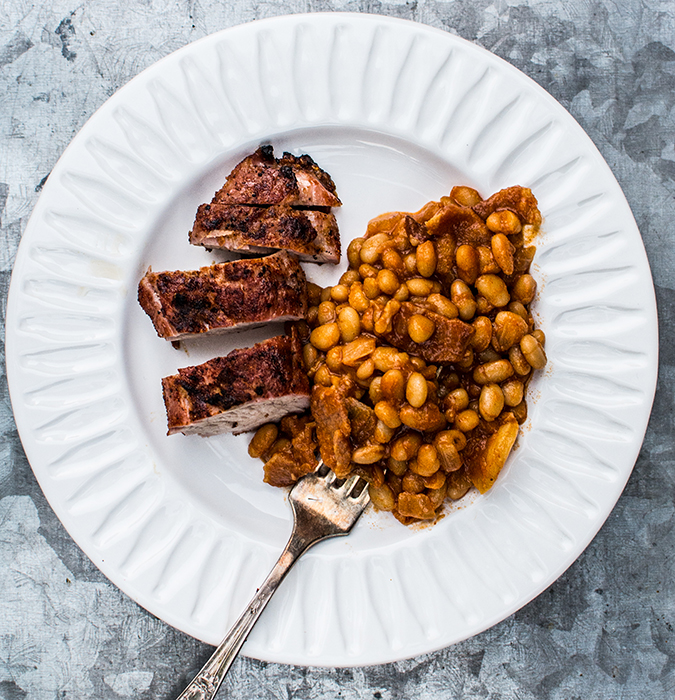 ---
Post and images by guest blogger, Rebecca White, of A Pleasant Little Kitchen.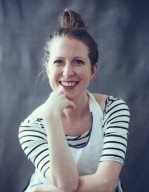 Visit her full blog or find out more about her here.
---
It might seem peculiar to make someone cook dinner for their special day, however on this occasion I feel like the two go hand-in-hand.
Grilling and Father's Day were made for one another. The joy of being outdoors, cooking over flames with loved ones by your side is the perfect evening for the men in my life—husband, father, brothers and uncles. For me, it seems perfectly natural to celebrate these tremendous men by letting them cook.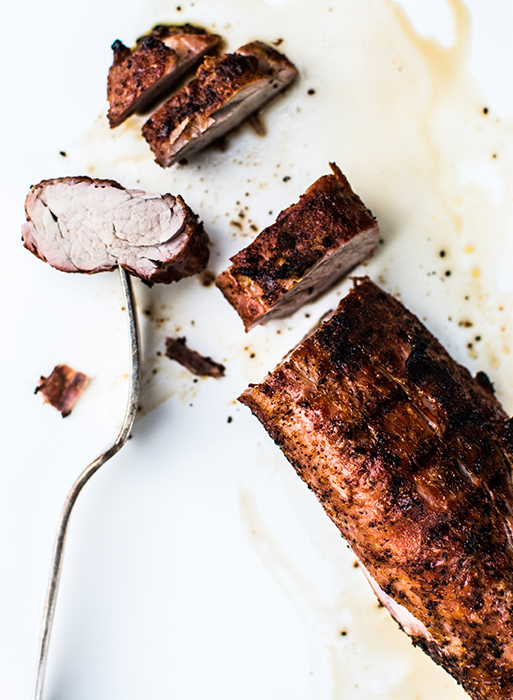 Of course, cooking together is always better.
Grilled Baked Beans and Grilled Pork Tenderloin is the perfect way to tag-team the Father's Day dinner celebration. While this is not a one-pot wonder, it is simple to prepare and easy to grill.
So here's the shopping plan: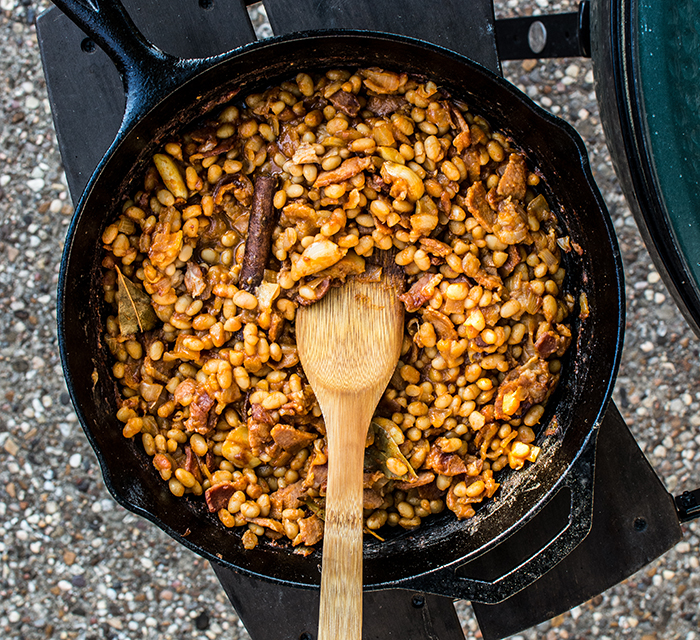 1. Groceries: Head to Market Street and grab all of the required ingredients for the baked beans and the pork tenderloin. Don't forget chips, salsa and guac from the Food-to-Go Department!
2. Equipment: If you don't own a cast iron skillet, now's the time to get one. And no surprise here, the fantastic Market Street has one ready for you to pick-up down the baking aisle, across from the spices.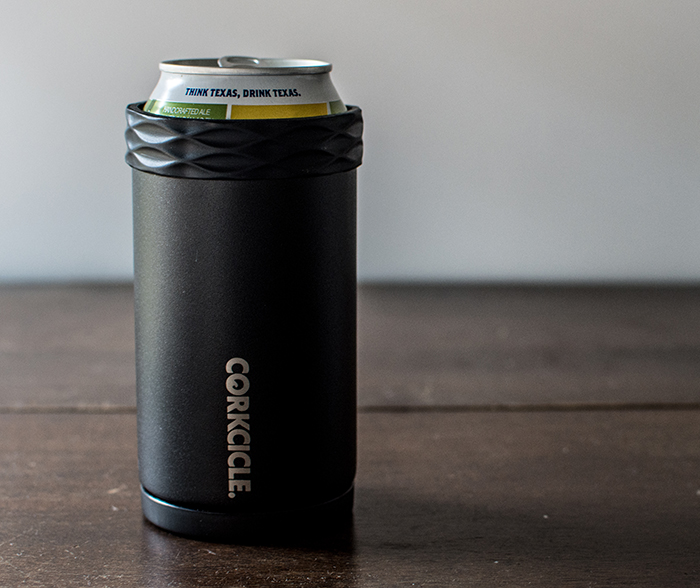 3. Gift: Next, make your way to the dish department and grab one of the coolest gifts for dad: a Corkcicle koozie.
4. Drinks: Finally, grab his favorite beverage—canned or bottled. It will be the perfect partner for that brand new koozie.
Once home fill that new cast iron skillet with all of the baked bean ingredients (side note: the only chopping involved is for the onions and bacon. Hurrah!)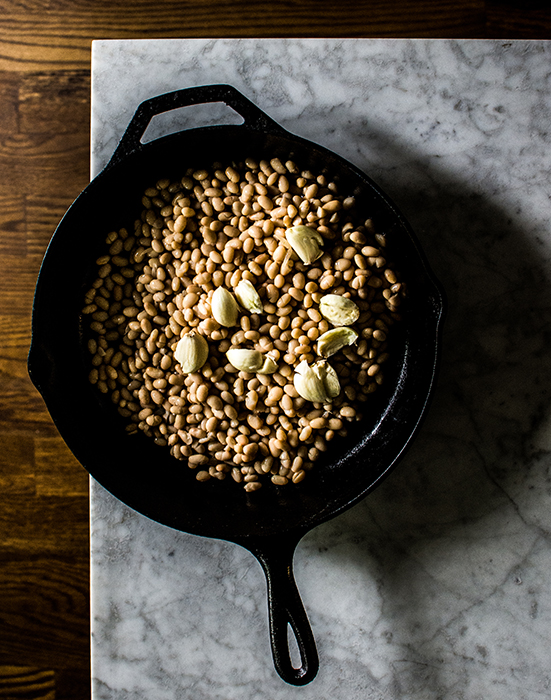 Pass the torch to the grill master and allow him to put the beans on the grill at 350°. These beans will cook for about 45 minutes to an hour, which is the perfect time to shower him with gifts. Pop the Corkcicle koozie filled with his favorite drink and give a toast! To a man who leads! To a man who loves! To a man who provides!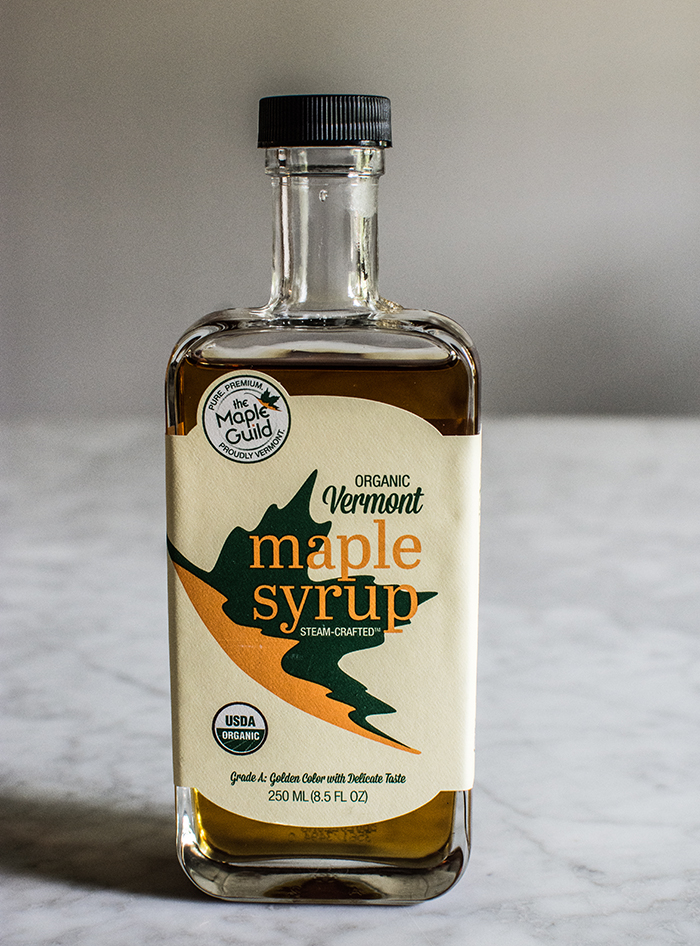 While the beans are cooking pop back into the kitchen and take out the pork tenderloin. Slather it with Old Bay, let the meat sit at room temperature for about 30 minutes, which is all you need for the beans to finish.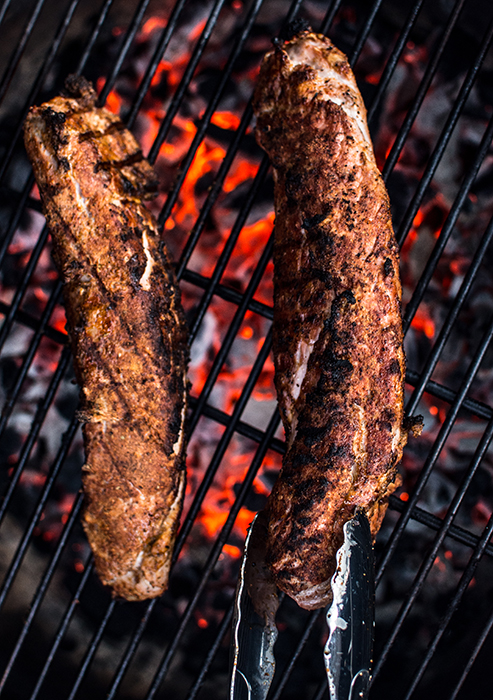 Once the beans are finished, bring them back inside and increase the grill temperature to 400 degrees. The pork tenderloin will need to be cooked at a higher temperature for about 20 minutes. Which is perfect!
Now's the time to let more celebration continue with a starter of chips, homemade salsa and guacamole from Market Street.
Celebrate these wonderful men outdoors this June with open flame, great presents and a delicious meal of grilled baked beans and pork tenderloin. Happy Father's Day!
---
Grilled Old Bay Pork Tenderloin and Grilled Baked Beans
for the grilled baked beans
Author note: To cook the beans indoors, cook for 45 minutes to 1 hour in a 350 degree oven. Stir once or twice.
2 cans navy beans, rinsed and drained
1 cinnamon stick
2 bay leaves, torn in half
5 cloves garlic, crushed
5 slices of bacon, cut into 1/2 inch pieces
1 1/2 cups yellow onion, diced
2 cups low-sodium chicken stock
3/4 teaspoons cayenne
1 teaspoon kosher salt
2 teaspoons yellow mustard
3 teaspoons tomato paste
2 tablespoons brown sugar
2 tablespoons maple syrup
1 tablespoon apple cider vinegar
1) Prepare the grill for indirect heat at 350 degrees.
2) Place the ingredients into a large cast iron skillet and stir to combine.
3) Place the skillet onto the grill, using an indirect cooking setup.
4) Close the grill lid and let cook 45 minutes to 1 hour, or until the baked bean sauce reaches a desired consistency. Stir the beans every 20 minutes. Serve warm.
for the Old Bay Pork Tenderloins
2 1 1/2 pound pork tenderloins
3/4 teaspoon kosher salt
1 1/2 to 2 teaspoons Old Bay Seasoning
1) Remove the tenderloins 30 minutes before grilling.
2) Heat the grill to 350-400 degrees.
3) Place the pork onto the grill and grill over direct heat for 15-20 minutes or until the temperature reaches 140 degrees, rotating and turning every 5-10 minutes for even cooking.
4) Remove the pork and cover. Let rest for 10 minutes. Slice and serve warm.
Category: What's Cooking