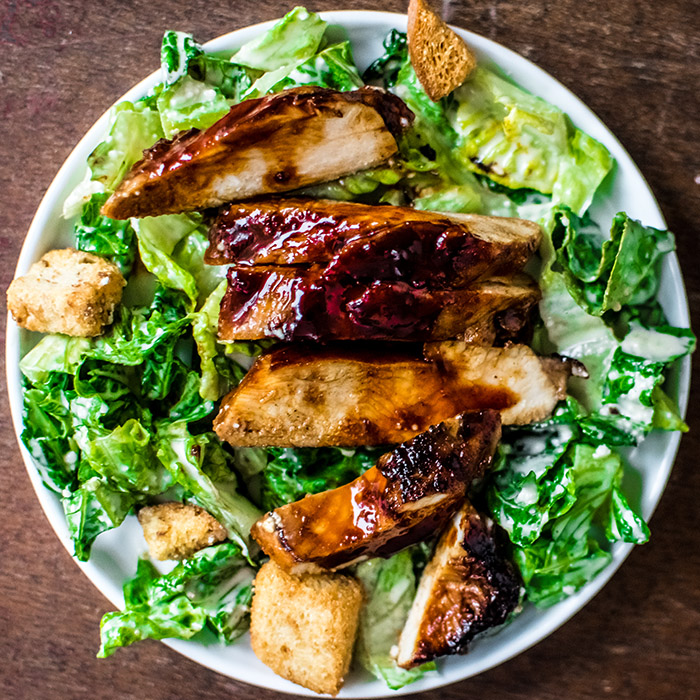 ---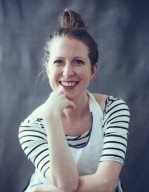 Post and images by guest blogger, Rebecca White, of A Pleasant Little Kitchen.
Visit her full blog or find out more about her here.
---

Caesar salads have never really been on my radar until three years ago. What exactly happened that turned the tides in my salad world? Eli.
It was then that my three-year old son became obsessed with Caesar salads. I'm not sure who introduced him to this salty, cheesy, crunchy delight of a salad but it most certainly impacted him.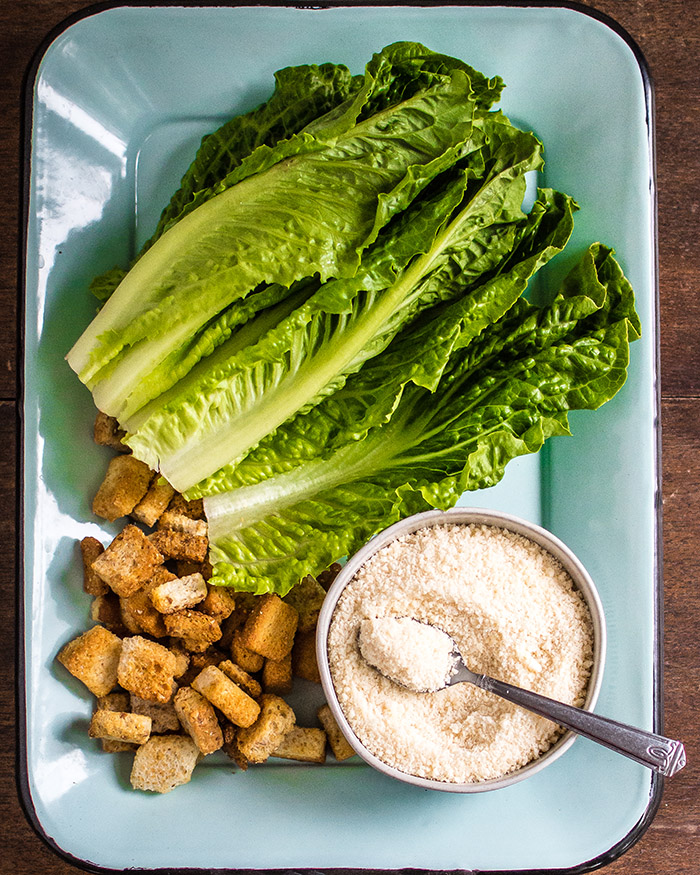 "Eli, what do you want for dinner?"
Spaghetti and Caesar salad
"Eli, it's your birthday! What are we eating?"
Spaghetti and Caesar salad
"Eli, what do you want in your lunch today?"
Spaghetti and Caesar salad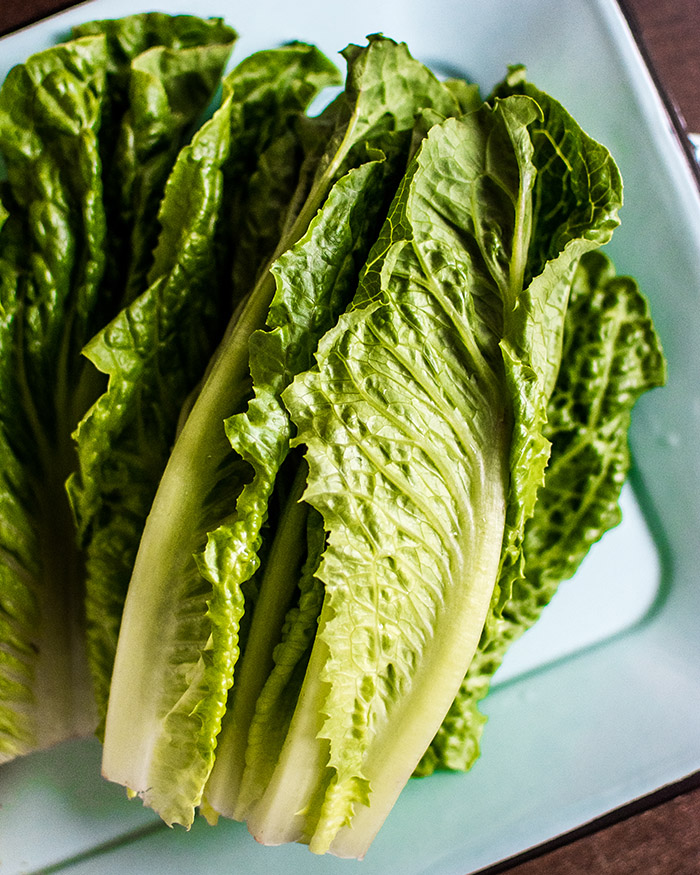 To this day, three years later, this answer continues. I don't think his craving will ever stop.
Needless to say, I have been eating a lot of Caesar salads and spaghetti. While my carb-loving heart loves this combination, I recently felt like it was time to add an adult twist to this very Eli-Friendly meal.
Chicken.
I know, I know… chicken and Caesar salad—that's kiiiiiiinda unoriginal. Well, my friend, this recipe is not like any other chicken Caesar salad out there because there's a secret sauce added to the chicken that makes it the star of the show. Gochujang.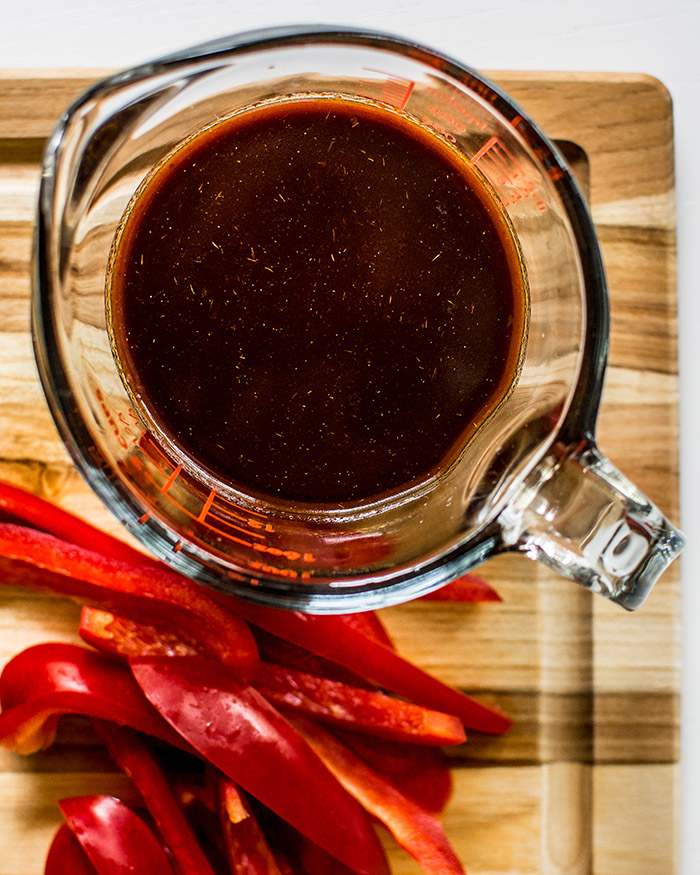 Gochujang is a Korean chili paste where umami meets heat. It contains fermented soybeans, brown rice, red chili and garlic. This condiment by itself is a paste, not a sauce. Combine it with sesame oil, honey and a few other ingredients you'll have a gochujang sauce in no time.
Fortunately, Market Street has the golden product that takes the guess work (and prep time) out of the sauce. I have discovered Bibigo Gochujang Hot and Sweet Sauce and it is the perfect condiment for marinades, dips and stir-frys.
Craving a bit of protein, heat and a unique spin on the classic Caesar, I decided one evening (while making the infamous spaghetti and Caesar salad combo) to give the kid-friendly dinner a grown-up refresh.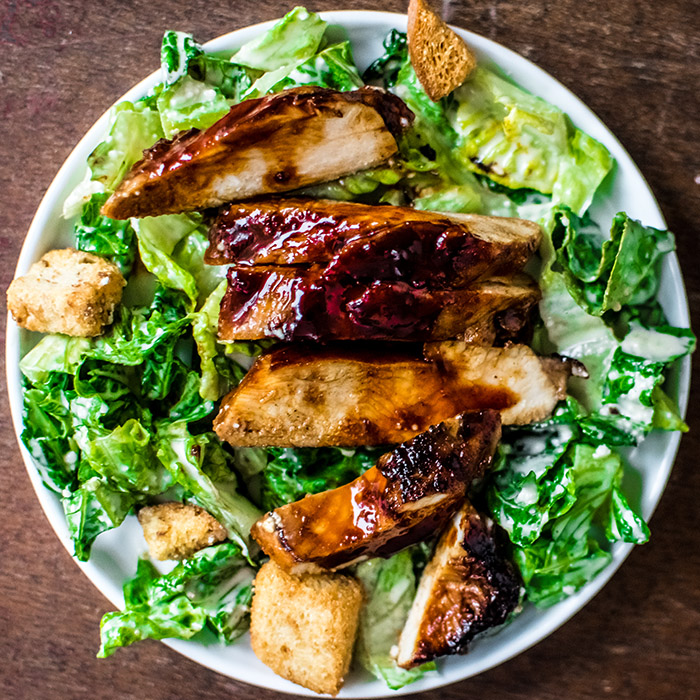 Having just gotten back from one of my many Market Street visits, I had grabbed a pack of boneless, skinless chicken breasts that had already been cut thin. All it took was a 30 minute marinade with the gochujang sauce and a quick six-minute sear in a non-stick pan. Easy peasy.
And what a delight this Gochujang Chicken Caesar Salad was! The heat, umami and sweetness paired beautifully with the salty, creamy and cold Caesar salad.
Next time you're walking down the international aisle at Market Street, go-ahead and grab two bottles of gochujang sauce. You'll need to have your pantry stocked for this quick, weeknight recipe that is going to be on repeat.
Gochujang Chicken Caesar Salad
Serves 4-5
1/2 cup gochujang sauce, plus more for topping
1/2 teaspoon sesame oil
1 1/2 pounds thin cut chicken breasts, cut thin
10 ounces romaine lettuce, chopped
1 tablespoon canola oil
1/2 cup Caesar dressing, chilled
1/2 cup grated parmesan, plus more for topping croutons
Add the gochujang sauce and sesame oil into a large mixing bowl and stir to combine. Add the chicken to the bowl, coat well. Set aside for 30 minutes.
Meanwhile, combine the romaine, Caesar dressing and parmesan into a large mixing bowl. Toss to coat, place into the fridge.
Heat a non-stick skillet with canola oil over high heat. Sear the chicken cutlets on both sides-- 3 minutes a side, for a total of 6 minutes or until cooked to 165 degrees. Set aside and cover for 10 minutes. Slice the chicken once it has rested.
Place the salad into serving bowls. Top with croutons, parmesan and sliced chicken. Drizzle additional gochujang sauce on top of salad. Serve immediately.
Category: What's Cooking