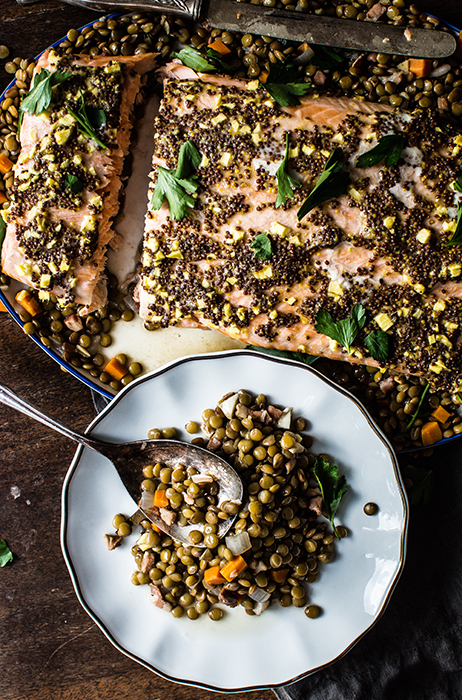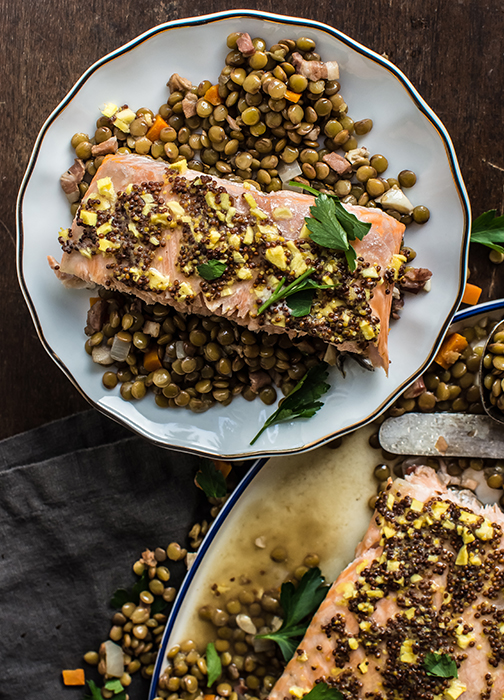 ---
Post and images by guest blogger, Rebecca White, of A Pleasant Little Kitchen.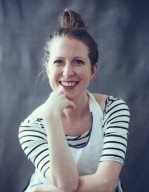 Visit her full blog or find out more about her here.
---
When looking for a quick weeknight dinner I don't know why seafood isn't my first instinct. Recently I've fallen in love with cooking this protein. It's healthy, full of good fats and cooks quickly.
Another benefit of cooking with fish is that it quickly absorbs seasonings. Leave a filet of salmon out for 15 minutes with a few weighty spices or a marinade and viola—the fish is well flavored! No six-hour wait here. How pleasant is that?
An additional quick-fix ingredient that I typically forget is lentils. These legumes are healthy proteins which need no soaking and cook quickly. They are a hardy side dish that is substantial enough to be served as a main dish. Lentils do not get enough credit for how delicious they are.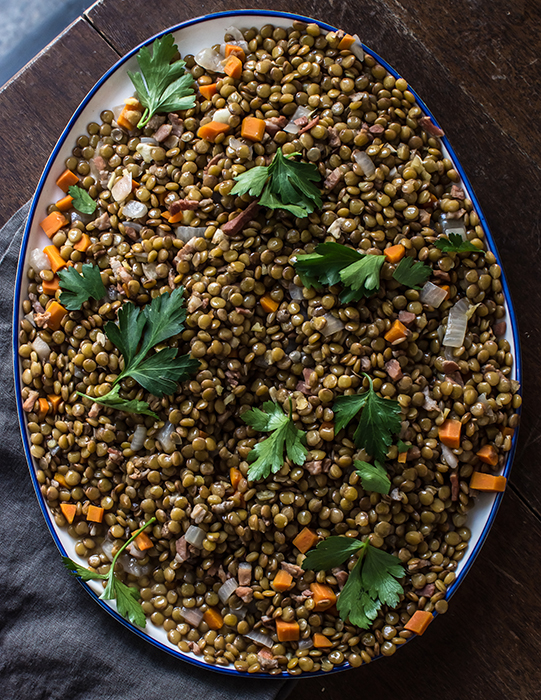 As a result, joining together these two ingredients, fish and lentils, is kinda genius. I give you Ginger Mustard Salmon with Ginger Green Lentils—it's like a one-pan wonder that uses two pans.
So here's the plan:
• Green Lentils cook within 20 to 30 minutes.
• Salmon needs 15 minutes to marinate plus 12 minutes of cook time and 10 minutes of cool time—totaling 37 minutes.
• Both items require little prep and just a little bit of observation during cook time.
If prepared simultaneously, it can feel like a one pot wonder.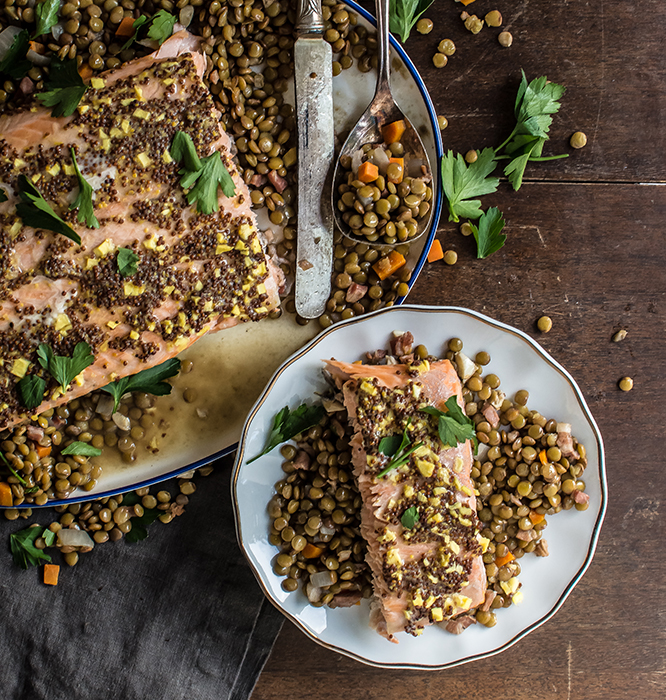 Due to this newfound love of seafood, I have recently befriended the fishmonger at Market Street and it's the best thing since the cheese department (which is my favorite spot at Market Street).
These days I give a wave to the fishmonger, walk up to the counter and ask what's fresh that day. I always trust what is recommended.
Another question I typically ask: "if there are bones in this filet, can you remove them?"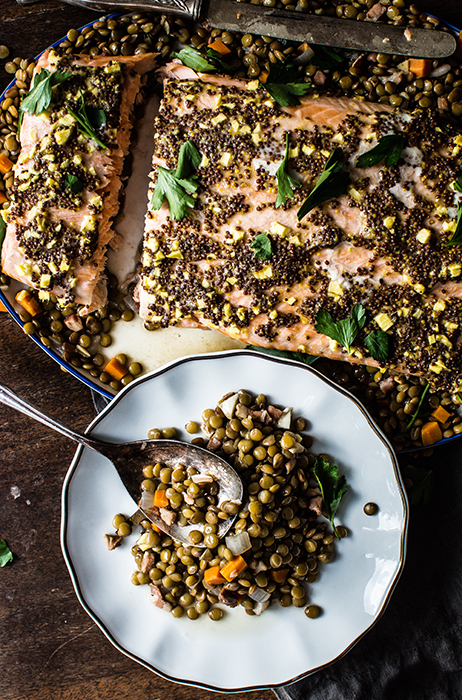 The answer is always "of course!" followed with a smile. The Market Street fishmongers know good customer service.
The benefit to this meal is that the ingredients are few: fresh ginger, garlic, onions, carrots pancetta and whole grain mustard. From 13 ingredients you will be creating a two-pan wonder that will make you feel like a weeknight, fancy-meal-cooking pro.
---
Ginger Mustard Salmon with Ginger Green Lentils
Servings: 4-6
Author note: Add salt to lentils once they have cooked all the way. Adding salt to lentils before cooking affects the texture of the cooked lentil.
for the salmon
2 pounds salmon
1 tablespoon olive oil
1 teaspoon kosher salt
2 tablespoons fresh ginger, finely chopped
3 tablespoons whole grain mustard
fresh parsley, chopped, for topping
1) Turn the oven to 425 degrees.
2) 15 minutes before cooking, remove the salmon from the fridge. Evenly distribute the oil and salt on the fish.
3) Add the chopped ginger and mustard to the salmon. Gently rub the ingredients evenly over the salmon. Set aside.
4) After 15 minutes, place the salmon in the oven. Bake for 10-12 minutes, or until the salmon reaches 145 degrees for well done, 125 degrees for medium.
5) Remove salmon from the oven and cover with foil. Let sit for 10 minutes. Serve with ginger green lentils (recipe below) and top with parsley.
for the green lentils
2 cups green lentils
4 ounces pancetta, cubed
1/2 cup yellow onion, diced
1/2 cup carrots, diced
1 tablespoon fresh ginger, finely chopped
3 garlic cloves, chopped
6 cups chicken stock
1/2 teaspoon kosher salt
1 tablespoon sherry vinegar
fresh parsley, chopped, for topping
1) In a large saucepan, combine the pancetta, onion, carrots, ginger and garlic. Cook over medium heat for 8 minutes. Stir frequently. Meanwhile, rinse the green lentils with cold water and set aside.
2) Add lentils to the pan and stir to coat. Cook for one minute. Pour in the chicken stock and increase the heat to high. Bring to a boil, reduce the heat to medium-low and simmer partly covered with a lid for 25-30 minutes.
3) Serve warm with or without the cooking liquid. Top with parsley.
Category: What's Cooking