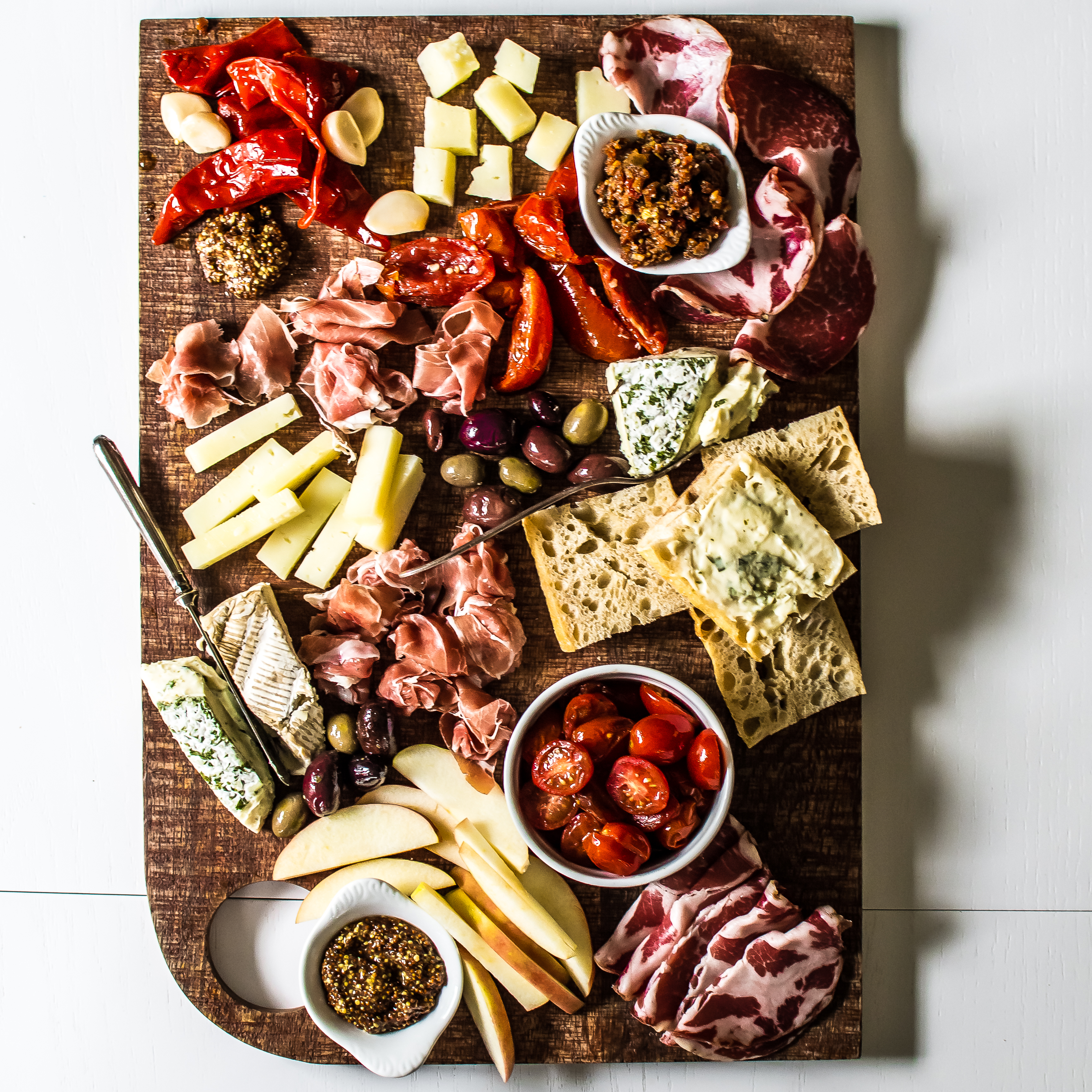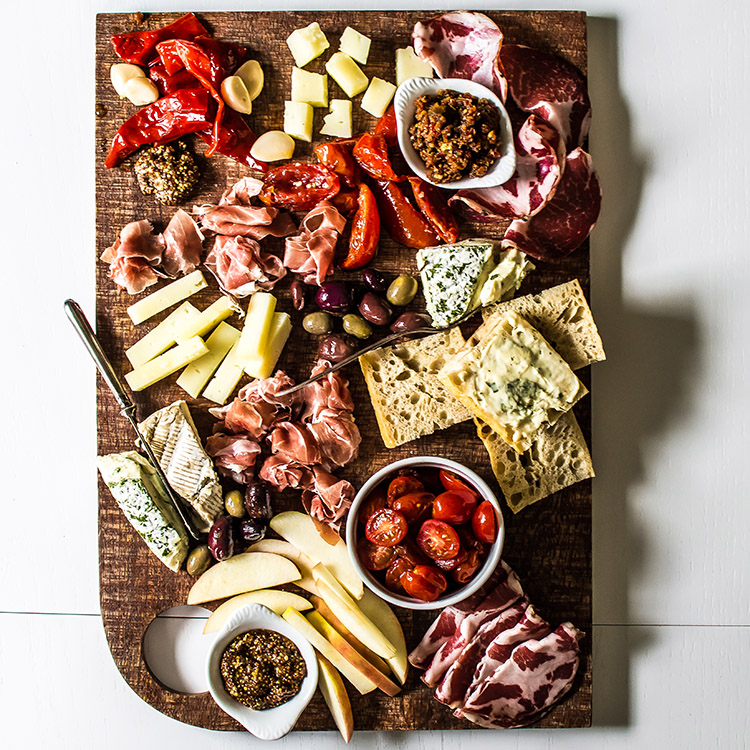 ---
Post and images by guest blogger, Rebecca White, of A Pleasant Little Kitchen.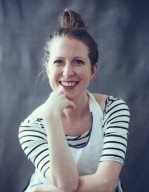 Visit her full blog or find out more about her here.
---
Charcuterie, this word is like none other, especially when it is accompanied by cheese, wine and the weekend.
A properly created meat and cheese board is a dining treasure. There is a delightful sensation when bites of salty, sour, creamy and sweet are combined with crusty bread and sips of wine.
The pink and red hues of the cured meats are offset by the creams of bread and cheese. Vibrant purples and greens pop from the fruit, while the pickles in their sour brine add an alluring texture. Each element becomes a piece in the meat and cheese puzzle.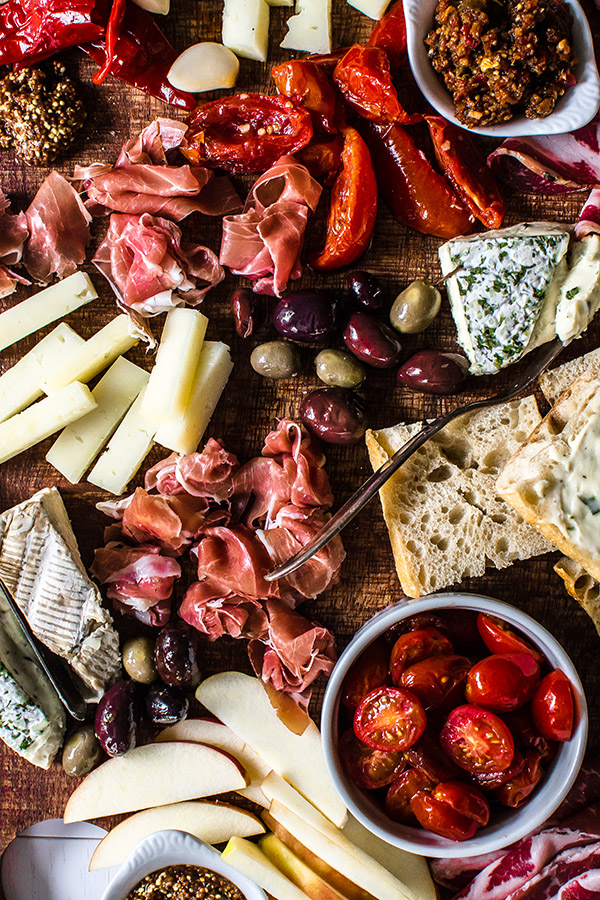 A charcuterie and cheese board can be easily tailored to feed one or many. It is a meal that invokes conversation and breaking of bread with others—a satisfying meal for both body and soul.
How do I create a stand-out meat and cheese board?
Aim to fill these categories when building this antipasto: Meat, Cheese, Fruit, Vegetable, Bread.
Within each category, make sure there are a variety of textures: Hard, Chewy, Soft, Crunchy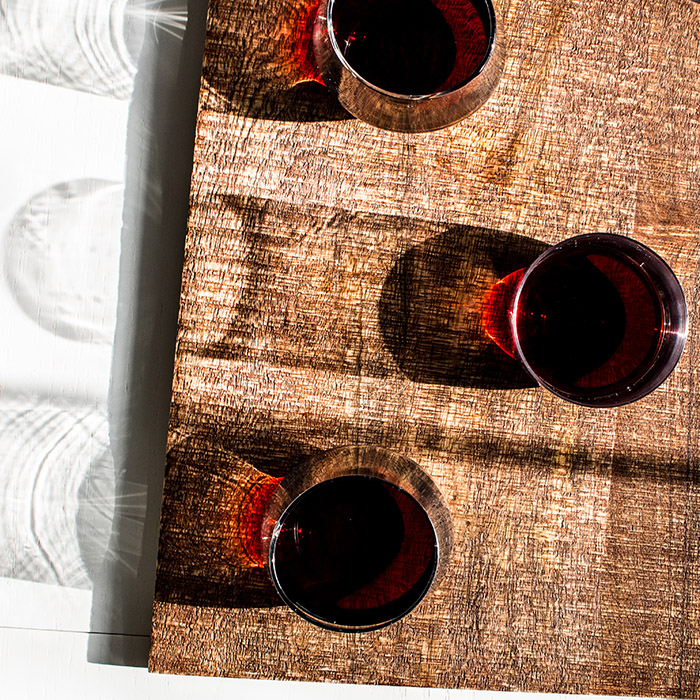 Also, when deciding on products for the board think about balance of flavor. There is nothing worse than an overly salty board that is not balanced with creamy cheese, sweet fruit and sour pickles.
Where do I get the supplies for a charcuterie board?
Market Street is the perfect one-stop shop for all these categories. Due to their flavor profiles and natural combination, these products are also conveniently located near one another.
There is a variety of cured meat options in the refrigerated deli department. These meats can be purchased prepackaged or sliced fresh from the deli.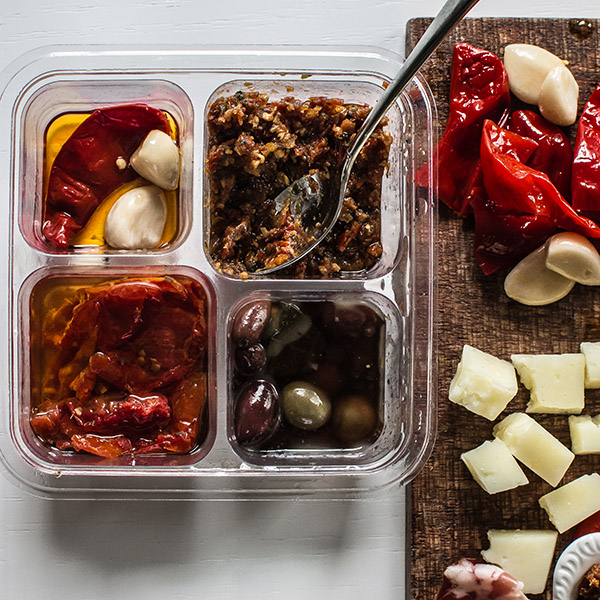 The variety of cheeses at Market Street is excellent. The only difficult part of picking out the cheese is narrowing it down to 3-4 different varieties (you will want hard and soft cheese—I prefer manchego, gruyere, parmesan and brie).
Then there is the bread—the beautiful, freshly baked bread is abundant at Market Street. Choose from a traditional French baguette or go with a rustic sourdough loaf, the bakery is a must.
Another way to grab a handful of accoutrements for this board is to utilize the olive bar in the to-go department. I love to fill a take-away container with olives, pesto and roasted peppers with intentions to place on the meat and cheese board. This feature at Market Street is a nice touch to an already wonderful to-go department.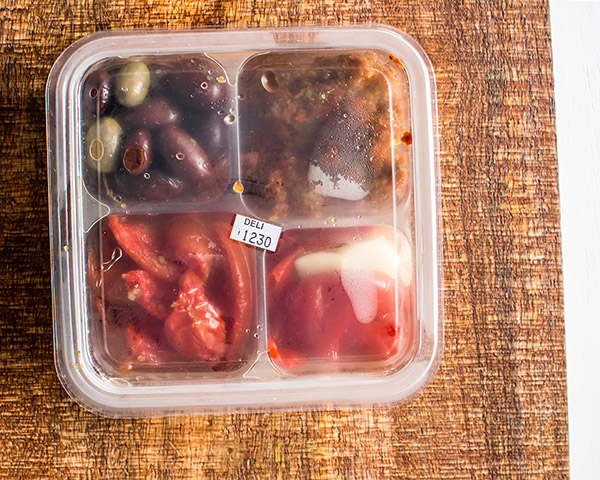 The dish department always has something new when it comes to serving platters. Small, large, wood or ceramic—the vessel for serving an antipasto is up to you! Be creative with the shape, size and material used. Remember, it doesn't have to be a wooden cutting board!
What other tips do you have for making a charcuterie board?
As an optional feature, try to make each piece somewhat bite sized. This allows diners to feel like a knife and fork is not necessary. Also, bite-sized pieces lend themselves to bite-sized combinations, like a mini charcuterie sandwich.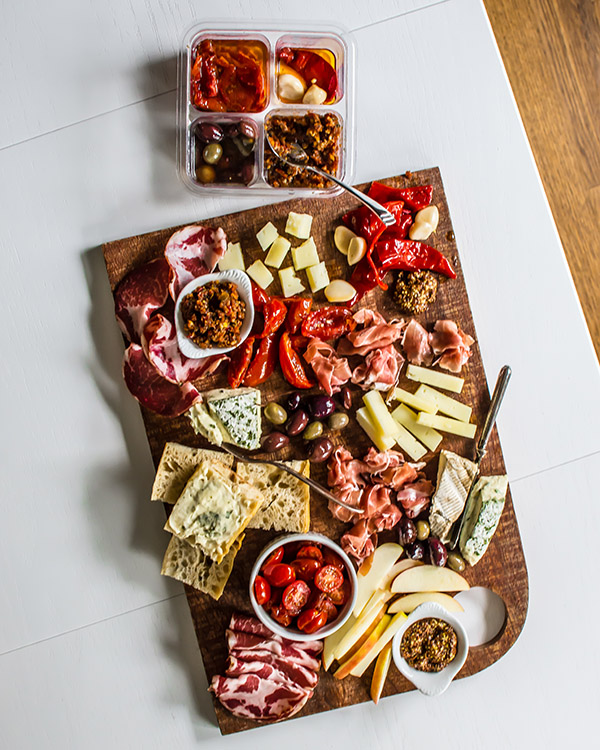 A few other things to look for when building a meat and cheese board: thoughtful wine selections and seasonal fruit (no one wants to bite into a flavorless apple).
Finding all the right elements for a well-balanced meat and cheese board can feel like a treasure hunt. Luckily, with the quality products and bountiful selections at Market Street, this treasure-hunt will be a delicious and easy gourmet adventure.
---
Charcuterie Board
servings vary
Author note: Here are my preferences for the cured meats and cheeses: prosciutto, salami, capicola, manchego, gruyere, pecorino romano and brie. When it comes to the assortments of goodies from the Market Street salad bar, I have listed three of my favorites: olives, pesto and roasted peppers. Feel free to add more as desired.
2-3 varieties of cured meats
2 hard cheeses
1-2 soft cheeses
homemade pickles, sliced
pitted olives, from the Market Street salad bar
pesto, from the Market Street salad bar
roasted peppers, from the Market Street salad bar
whole grain mustard
apple slices
crusty bread, lightly toasted
Place all ingredients onto a wooden board or large platter one hour before serving.
Category: What's Cooking