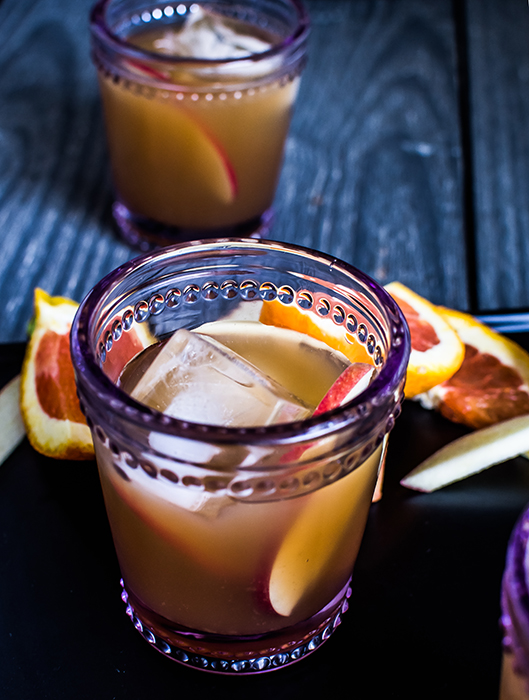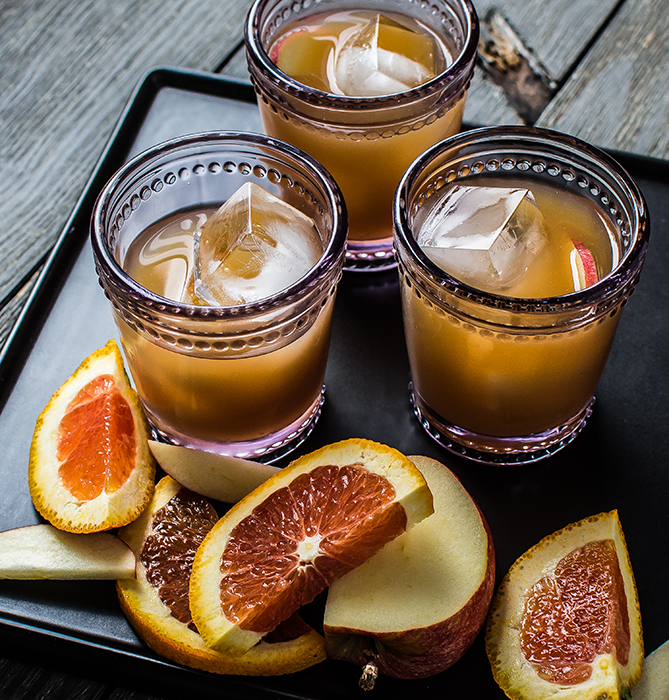 ---
Post and images by guest blogger, Rebecca White, of A Pleasant Little Kitchen.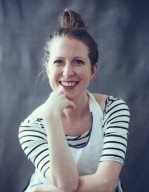 Visit her full blog or find out more about her here.
---
What makes punch, well punch?
This is a question I've been wondering lately. After a bit of research, I have learned that punch, historically, was a combination of water, lemon, tea, alcohol and spices. The word "punch" comes from a Persian word that means five—five ingredients, that is. Over time "punch" has evolved into a drink that contains fruit juice and may or may not have alcohol involved, and of course, is served in a punch bowl (with those little cute punch glasses).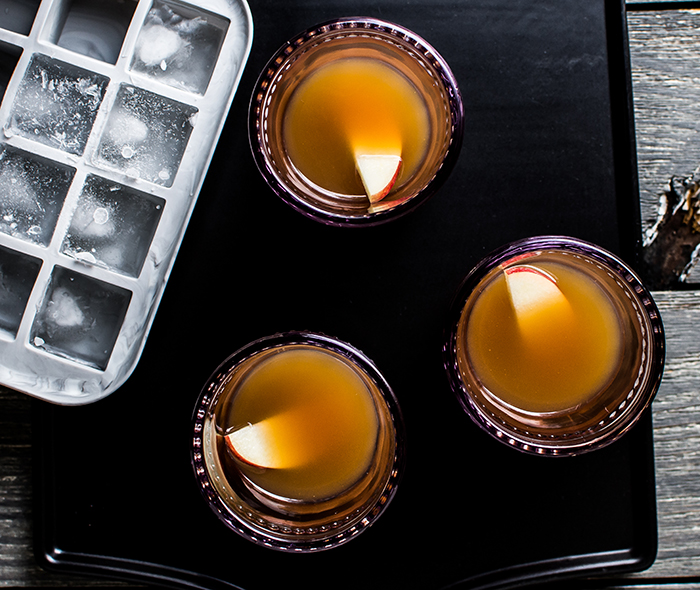 Growing up, punch typically involved 7-Up and some sort of sherbert. Anyone else share that same memory?
Apple Tea Punch has no 7-Up and no sherbert. This unique elixir is my fall spin on this classic and well-beloved beverage. And, it fulfills that 5 ingredient requirement: apple cider, tea, water, fruit and spices. An optional splash of rum may be your 6th ingredient if you please but it's not necessary.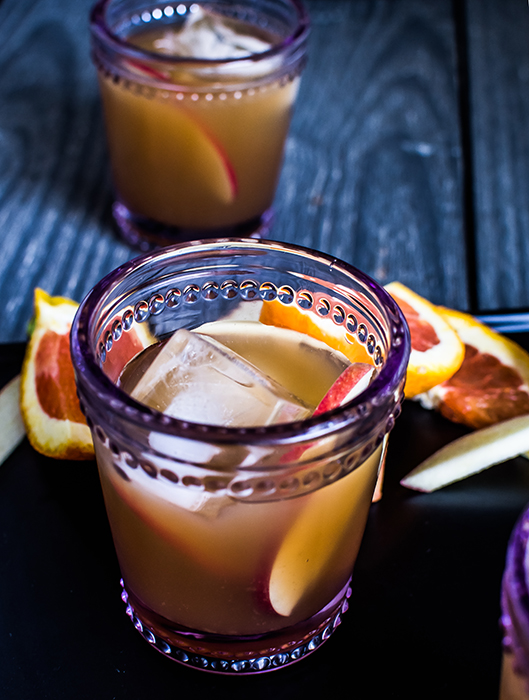 There's nothing elaborate about this recipe. It's literally apple cider (or apple juice) infused with aromatics which is then steeped with black tea bags and eventually fresh fruit.
The first step in creating this punch is infusing spices into the apple cider: 1 cinnamon stick, 10 whole cloves and 1 cardamom pod (optional) are all that is required. The simple act of warming these ingredients together in a saucepan allows the spices to come together and create an aromatic drink.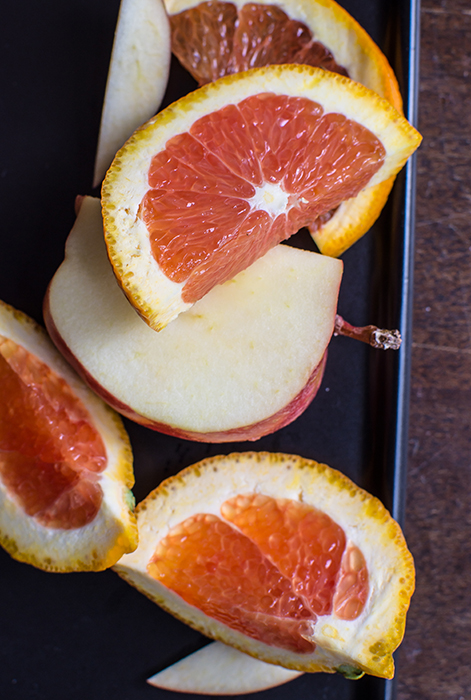 After the infusion of spices, the tea needs to be steeped gently into the spiced cider. With just 5 minutes and 3 to 4 family-sized tea bags, you'll be halfway to a finished Apple Tea Punch.
The final step of flavor infusion is adding fall fruit into the drink. Apples are at the height of their season right now and Market Street has an expansive variety of flavorful apples that long to be used in this drink. Along with apples, oranges are starting to make an appearance and well when I start to see these lovely orange globes popping up at Market Street, I have a hard time resisting.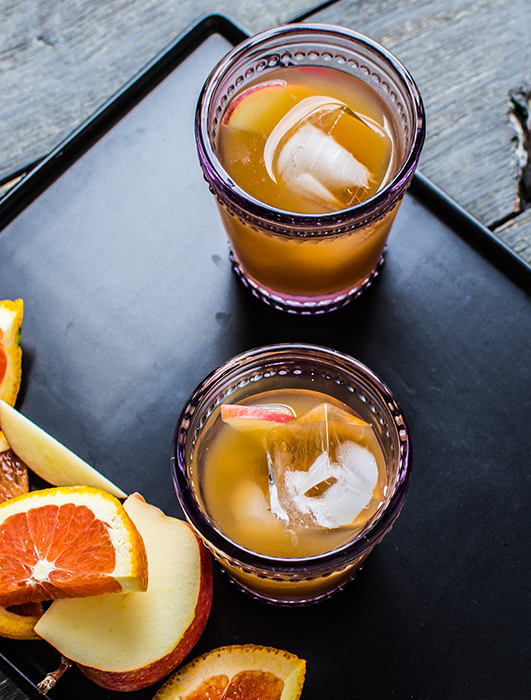 There is one important step that is not to be missed; infusing the apple tea punch in the way of sangria.
All that means is that one sliced orange and one diced apple are added to the apple punch mixture. Once combined, let the fruit soak in the punch for six hours so the flavors of orange and apple penetrate the cider and tea mixture.
Strain the fruit and spices from the punch. There will be a chilled and cozy spiced apple tea punch ready to be sipped in either in small punch glasses or frankly, whatever glass fits your fancy.
---
Apple Tea Punch
Author note: If you're craving something a little warm instead of cold, follow these steps once the fruit has marinated with the tea: remove the punch from the fridge, strain the fruit from the liquid and heat the liquid until warm. If you're serving a party heat the punch in a crockpot and serve warm. If you prefer a stronger tea flavor, use 4 tea bags. A splash of rum or bourbon would be a nice spirit to add to this elixir.
4 cups apple cider (or apple juice)
3 cups water
1 cinnamon stick
10 whole cloves
1 cardamom pod (optional)
3-4 family sized tea bags
1 orange, halved and sliced
1 apple, diced
1) In a large saucepan combine the cider, water, cinnamon stick, cloves and cardamom pod. Bring to a boil over medium-high heat and then lower the heat (to low) to a simmer. Cover and simmer for 30 minutes.
2) Remove from the heat and add the tea bags to the mixture. Steep for 5 minutes. Remove the tea bags. Let the mixture cool for 15-20 minutes.
3) Add the orange slices and apple pieces to a large pitcher. Pour the punch over the fruit and place in the fridge. Let marinate for 6 hours.
4) Serve chilled with ice and apple slices.
Category: What's Cooking